Affiliate Disclaimer
This site contains affiliate links. I may receive a commission from Amazon or other third parties if you make a purchase after clicking on of these links.
If there is a potter in your life, and you are struggling to find a gift, you have come to the right place. Pottery is full of gadgets, doohickeys, and thingummy bobs that can make perfect gifts for potters.
If you are not into making pottery yourself, it can seem like a minefield. So, I thought I'd put together a handy list of the best gifts for a pottery nut. I hope this will make your gift-buying process a little easier.
Budget is often a factor when gift buying, so I've broken the list down into price ranges. Here are the price range categories:
In each section, I've highlighted my top 3 picks to make your job of choosing a bit easier.
Most of the items in the guide are pottery tools and gadgets. But I thought I'd start off with a section on fun and unusual gifts for potters.
Fun Gifts for Potters
Before we get into the 'serious' business of pottery tools and equipment, here are a few fun suggestions…
Pottery Themed T-shirt
Most potters wear old clothes when they are making pottery, as it can get messy. So, there is not much you can buy as a gift in the way of pottery clothing.
However, a nice fun pottery T-shirt makes a good gift for a ceramics enthusiast. There is a great selection of different pottery-themed T-shirts on Etsy. Check them out here and see which one might suit the potter in your life.
'Glazed and Confused' pottery T-shirt – View on Etsy
Pottery Cushion
Who doesn't love a nice cushion? You can get some lovely pottery-themed cushions, that are cozy and pottery-obsessed.
Pottery Cushion – View on Etsy
Pottery Themed Mug
Mugs are a go-to gift. These cool mugs come in two sizes. So, if your potter friend loves their coffee you can get the 15oz mug.
Pottery Throwdown Gifts
If your potter friend is a Pottery Throw Down addict, then they may enjoy their own 'sew your own Keith doll kit'. It's a random gift, but it's bound to bring a smile to the face of a Throw Down obsessive. Alternatively, they may like this Keith Brymer Jones Peg doll, which is the cutest pottery gift I've seen.
Pottery Tote Bag
This sweet-looking canvas bag is a nice idea for carrying pottery tools, aprons, and notes to and from a pottery class. Or just for general day-to-day shopping.
Pottery Tote Bag – View on Etsy
Enough of the novelty gifts suggestions, let's get onto the sorts of equipment and tools that potters use from day to day.
Gifts for Potters Under $20
There are loads of pottery tools in this price range. Here are my top 3 picks for pottery gifts in this price range are…
Top 3 Picks:
Let's take a closer look at each of those top 3 picks.
Top Pick 1) The Pot Lifter
Pot lifters are a great tool for lifting pots off the wheel without crushing them in the process. The base of your pots can get soggy as you are throwing, especially if you are just learning how to throw.
Lifting the pots without distorting the shape or leaving fingerprints can be tricky. These pot lifters make moving your pots off the wheel and onto your wareboard simple. You simply slide the lifters under your pot and lift the pot off the wheel.
They are especially good if you have a pottery wheel that doesn't have bat pins.
Kemper Tools Pot Lifter – View on Amazon
Top Pick 2) Sponge on a Stick
A 'sponge on a stick' is just what it sounds like. They are designed for potters to slide into long tall pots to mop up water and clay slop from the inside base. This is great when the pot is too narrow to fit your hand inside.
This particular sponge on a stick by Xiem is the best one I've used. It has a telescopic handle, so you can make it the ideal length. Once the sponge is damp and softened up it's nice and absorbent. Plus you can get replacement sponges for the handle.
Sponge on a Stick Pottery Tool – View on Blick
Top Pick 3) Personalized Detail Carving Tools
These make great gifts for potters for a couple of reasons. Firstly, every potter needs a set of detail carving tools. These tools are nicely made and allow you to do very refined work on your pottery. Secondly, they can be personalized with the potter's name. This makes them the perfect gift.
Personalized Detail Carving Tools – View on Etsy
If you don't want to go down the route of giving your potter a personalized gift, you could opt for this detail carving tool. It is also a lovely set of fine tools but isn't personalized.
So, they were my top 3 picks, but here are some other great gifts for potters in the under $20 category too…
Sponges
All potters use sponges. They can be used to moisten clay or mop up excess water. There are different kinds of sponges.
Some sponges are formed naturally, for example, Elephant Ear Sponges or Sea Sponges.
My favorite sponges are Mudtools Mudsponges, which are made specifically for potters.
This is one of my favorite types of sponge…
Mudtools Mudsponge – View on Blick
Loop Tools
Loop tools are essential for tidying up and shaping your pottery on the wheel. Potters call this trimming.
Some loop tools are a bit flimsy and break easily. What I like about Xiem tools is that they are made from heat-treated steel. So, they are strong and sharp.
Xiem tools trim easily and won't bend or break when they have been used multiple times. Loop tools are relatively inexpensive, and a couple of different-sized loop tools are great gifts for potters. I'd recommend the medium size as below.
Xiem Medium-Sized Tear Drop Loop Tool – View on Amazon
Foot Shaper
A foot shaper is an ingenious tool that helps you easily trim and shape the base of your pots into a lovely sculpted foot ring.
It makes creating a perfectly proportioned foot on the base of your pottery super easy. They can also be used to tidy up the rim of your pottery. So, all in all, they are a great addition to your pottery tool set.
The foot shaper comes in 3 different sizes, small, medium, and large. Even the small one is quite large, so unless you're making very large pots, the small foot shaper will be a perfect size.
Xiem Pottery Foot Shaper – View on Amazon
Pottery Forms
Pottery forms are great if you want to hand-build some pots or dishes rather than using a wheel. They are made out of absorbent material and come in a range of different shapes and sizes.
You roll your clay out with a long rolling pin to a thickness of about ¼ inch and cut out it to size.
Then you can then either press the form into the slab and the clay takes on the shape of the mold. This is called a press mold. Or you can drape the slab over the mold and shape the slab around the pottery form. This is called a drape mold.
Either way, you can make beautiful, uniform sets of plates and dishes using pottery forms.
Pottery Forms for Molding Clay – View on Amazon
Glaze Atomizer
Atomizers are fun ways to decorate pottery. They are simple and low-tech. Basically, the atomizer is a fine pipe or tube that sits in the glaze or underglaze.
You then blow gently through another tube. The blowing action draws the liquid up through one pipe and out the end of the other pipe. This creates a nice spray effect on pottery ware.
Atomizer For Pottery – View on Amazon
Chamois Leathers
Chamois leather is a soft suede that is used to smooth out clay surfaces, and compress clay. I find it invaluable when tidying up the edges of hand-built or wheel-thrown pottery.
These small squares of chamois leather by Penguin Pottery are ideal. As a potter, you only need small individual sections, rather than a great big sheet that you might use to dry a car.
Chamois Leathers for Pottery – View on Amazon
Texture Roller for Clay
Textured rolling pins are a great way to customize and add some interest to your clay. You simply roll out your slab of clay and then use the textured roller to add design details.
They can also be used on wheel-thrown pots too. Textured rollers come in a range of patterns to suit all tastes.
Also, you can buy a textured rolling pin like this…
Texture Rollers for Clay – View on Amazon
Or you can use a smaller finger roller which you pinch between your finger and thumb…
Texture Finger Roller for Clay – View on Amazon
Diamond Sanding Pads
If you make pottery, sooner or later you will get a drippy glaze that runs too far down the side of your pottery.
One way to deal with this is to sand the glaze drips away. But pottery glaze is basically glass, so this is best done with a tool specifically designed to sand away rock-hard materials.
Diamond Sanding Pads are a great way to rescue pots with glaze that has run too much.
Diamond Sanding Pads – View on Amazon
The good thing about diamond sanding pads is that they are pretty inexpensive. But they do involve a bit of elbow grease. If you are in the position to spend a bit more, you might want to go for a Dremel rotary tool.
Pottery Glaze Hydrometer
A pottery glaze hydrometer measures the thickness and density of glaze. This can really affect what a glaze looks like once it's been fired.
They make a great gift for potters for a few reasons. Even if the potter in your life isn't using a hydrometer yet, the chances are they will as they carry on glazing their pots. And it's handy to have a hydrometer there for when you need it.
But it's also very handy to have a spare. They are made of glass and can get damaged. So, even if they have one already, it's always good to have a backup.
Hydrometer for Pottery Glaze – View on Amazon
BatMate
A bat mate is a circle of soft absorbent fabric that potters can put underneath the pottery bats that fit onto their wheel head. They are great for fixing pottery bats in place and stopping the bats from wobbling as they are being used.
Pottery bats can warp over time and a Bat mate will compensate for that and stop the wobble.
Bat mates come in 12" and 14" diameter. But they can also be cut to size. So, whatever sized wheel your potter has, they can trim the Bat mate so that it fits their wheel head.
Steel Calipers
Calipers are a very handy tool, especially for making pottery lids. They are used to measure the inside or outside edge of a pot. Once you have the exact measurement using the caliper, you can make a lid that fits your pot perfectly.
Pottery Calipers – View on Amazon
Hand Cream For Potters
Making pottery can be tough on the hands and skin. Clay has a drying effect on the hands, and potters can get what is known in the trade as 'potters hands'. Basically, this amounts to dry, chapped skin.
So, a good moisturizer does make a wonderful gift for potters. One of the moisturizers most commonly recommended by potters is Bag Balm. The good thing about this supercharged moisturizer is that it creates a shield on the hands and has water-repellent qualities.
Even if your hands are in and out of clay and water all day, Bag Balm will create something of a barrier to protect your skin.
Best Hand Cream for Potters – View on Amazon
Pottery Books Under $20
What list of gifts would be complete without a selection of enthusiasts' bestsellers? Books are a good old fail-safe as far as gift-giving goes.
There are lots of amazing pottery books available that make great gifts for potters. Check out this list of recommended pottery books to see if you think they may interest the potter in your life.
Gifts for Potters Between $20-50
Here are some of the best gifts for potters in the $20-50 range. Again, I'm starting off with my top three picks in this price bracket.
Top 3 Picks:
Here is a bit more information about those top 3 picks…
Top Pick 1) Split Leg Apron
Pottery is messy and getting clay and glaze stains out of clothing can be tricky, so an apron is essential. But even better than a regular apron is a split-leg pottery apron. These are specifically designed to be used when making pottery on the wheel.
The split down the front means that the fabric falls on your legs as you use the wheel. A regular apron simply bunches up around your waist and doesn't protect your legs from clay splatter. But with a split-leg potter's apron, your legs will be splatter-free!
Split-leg Pottery Apron – View on Amazon
Top Pick 2) Gift Card
If you don't want to commit yourself to purchasing a particular gift, then, a gift voucher is always a good option. Here are a couple of suggestions for gift vouchers that are perfect for potters…
Gift Certificate – View on Blick
You could also ask at your local clay shop or pottery supplier. Local shops often have gift voucher systems available. The advantage of a voucher for a local supplier is that the voucher holder can browse in the actual shop. Browsing in a real pottery shop is a rare treat these days, and a bit of a gift in itself.
Top Pick 3) Mug Handle Forms
Making handles for pottery is a skill in itself. The clay needs to be shaped when it's still soft and allowed to firm up just a bit before it's attached to the pot.
The problem is that clay has a memory, and if you allow it to firm up in the wrong shape, it's prone to cracking and warping when it dries.
These clay handle shapers are great because they ensure that your handles always have the perfect curve as your clay firms up. No more wonky handles!
Set of 12 Mug Handle Forms – View on Etsy
Now here are some of my other suggestions for gifts for potters in the $20-50 price bracket.
Letter Stamps for Clay
A nice set of letter stamps for clay is a great gift for potters. They are fun to use, and a good addition to a potter's equipment. Especially if they have a liking for the written word.
Without a doubt, these letter stamps by Relyef are the best I've used. I've tried many, and this particular brand is a joy to use. They give a clean impression and the finish is stylish. You can read more about why I use Relyef stamps over and above any others in my article on letter stamps for clay here.
Letter Stamps for Clay – View on Etsy
Dremel Rotary Tool
Drips happen! Pottery glaze melts when it gets hot and then hardens when it cools down in the kiln. Some glazes are runny and can form drips that run all the way down to the base of a piece of pottery.
When this happens, the drips need to be sanded off. This can be done with a diamond sanding pad.
But an easier way to sand off your drippy glaze is a Dremel Rotary Tool. These can be used to sand glaze off the base of pots or off kiln shelves too. They are quicker to use than sanding pads and they make short work of tidying up your pottery.
Dremel Rotary Tool – View on Amazon
Double Ended Trimming Tool Set
A nice set of trimming tools specifically for detail work on your pottery is a good option.
This lovely set of refined trimming tools by Xiem is made of high-grade steel, with nice ergonomic rubber handles. They are a fantastic way to add a precise finish to pottery that's been made on the wheel.
Online Pottery Workshops
If there are no local pottery classes in your area, then an online pottery class is a great option. Online pottery classes are good gifts for potters who need flexibility in their schedules.
With online courses, you can access the content whenever it suits you. And you have access to great pottery teachers across the globe.
Why not check out some courses at The Ceramic School. They have a huge range of courses, targeting all areas of pottery making and for all levels of experience.
Online Pottery Courses – View on The Ceramic School
A Class at a Local Pottery Studio
Whilst learning online is great, there is nothing quite like actually going into a studio in person and learning from an experienced potter.
It doesn't take long to check out local pottery studios and see if they are running classes. Vouchers to attend a local pottery class make a wonderful gift for potters.
You can Google your local pottery studios and see if they are running classes. Just search for local 'pottery classes' or 'workshops' and see what's going on in your area. You might also find a local potter who is offering one-to-one lessons too.
Xiem Precision Applicator
These rubber bulbs are designed to be filled with liquid. You then squeeze the bulb and the liquid comes out of the narrow nozzle. They can be filled with different liquids including glaze, colored liquid clay, and wax resist.
They are a great way of adding texture, color, and design details to pottery. The Xiem applicators are good because the rubber is soft and easy to squeeze. Some applicators are large and awkward to use. But this one is easy to handle and great for creating controlled and detailed designs.
It also comes with a range of different gauge nozzles, to give you options on the effect you are after.
Xiem Studio Precision Applicators – View on Blick
Designer Liner
Another nice way to add detailed designs to pottery is to use a Mayco Designer Liner. It's a bit like underglaze, which is basically a kind of colored paint for clay.
The Designer Liner comes in a bottle with a nozzle or tip applicator. You use the metal tip and applicator to apply a thin line of colorant onto your pottery. So, you can use it to make really intricate and lovely designs on your pieces.
It comes in a range of 11 colors to suit all tastes and the pack of 6 assorted colors makes a good gift for potters.
Mayco Designer Liners – View on Blick
Pottery Throwing Gauge
A throwing gauge is a gadget that helps potters make a set of pots that are more or less exactly the same height or width. It consists of two arms mounted on a post. These arms can be adjusted so that the tip is set at a particular position.
The idea is that the potter learns to throw their pieces so that they line up with the position of the arm. As a result, you can make a set of pots with the same measurements, without having to measure.
Pottery Throwing Gauge – View on Amazon
A Set of Underglazes
Underglaze, as the name suggests, goes on before the pottery is glazed and then fired. It's a great way to add color and design to pottery, especially for those potters who have a painterly approach.
Buying the potter in your life a set of underglaze colors is a great gift because it offers variety and will last for months. What's more, you can use underglaze in a ton of different ways to decorate pottery. So, it's bound to be a big hit with the recipient.
Mayco Fundamentals Underglazes (Set of 12) – View on Blick
Pottery Books Between $20 – 50
Here are some more suggestions of great pottery books. I particularly recommend The Potters Dictionary of Materials and Techniques. I use it all the time…
Gifts for Potters Between $50-100
My top 3 picks for this price range are:
Top Pick 1) Heat Gun
Pottery takes patience, but sometimes when we are pushed for time we need our pots to hurry up and dry already. That is where the heat gun comes in handy.
Heat guns (or hot air guns) have a range of temperature settings and fan speeds. This means they can be used in a controlled way to speed up the drying process with pottery when required. They can be used to help in the drying of clay and glaze.
Heat Gun for Pottery – View on Amazon
Top Pick 2) Heavy Duty Scales for Clay
Potters weigh their clay when they want to be sure that they are making a pot that is the right size and thickness. So, having a good set of sturdy scales that can cope with the density of a chunk of clay is important.
Also, it's important to have a set of scales that are dedicated to weighing clay. For reasons of health and hygiene, it's recommended that you don't mix your everyday kitchenware with your pottery tools. A separate set of heavy-duty scales for pottery clay will be a welcome gift.
Heavy Duty Scales for Clay – View on Amazon
Top Pick 3) Banding Wheel
Every potter needs a banding wheel. A banding wheel is a plinth that is mounted on bearings that can rotate so you can turn your pottery with ease as you work.
There are different brands of banding wheels on the market. The best type of banding wheel to buy is one that is made from cast iron. These are heavy and move smoothly.
My banding wheel is about 30 years old. It's made from cast iron, with good bearings, and it's still as smooth and strong as when I first got it.
Shimpo banding wheels are also made out of cast iron and have a reputation for being weighty and solid. Because of their quality, they make the work of the potter much easier.
Cast Iron Pottery Banding Wheel – View on Blick
Pottery Bat System
A bat system consists of a round wooden bat that fixes to the pottery wheel head. It also includes square inserts that fit into the round base.
The idea is that you throw your pot on the square insert. Then when you have finished making your piece, you can lift the insert and the pottery off the round bat. This is a great idea as you can avoid having to move your pottery when it's still soft and fresh.
Pottery Bat System – View on Amazon
Hand Held Clay Extruder
A clay extruder works on the principle that you load clay into the barrel and press the lever. The clay then extrudes out of the barrel through a die. The 'dies' have different shapes cut into them, so you can change the shape of the clay extrusion.
These are great for making decorative details to go onto pottery. But they are especially good for making handles for mugs, cups, and dishes.
Hand Held Clay Extruder – View on Blick
Luster Underglazes
Luster overglaze is a metallic paint that can be used to add gold, platinum, and mother-of-pearl details to pottery.
The metallic particles are suspended in a liquid medium, so they can be painted onto glazed pottery. The pottery is then fired again so that the precious metal is sealed to the pottery permanently. Lusters are a great way to add beautiful precious metal accents to pottery.
At around $57 for one 2gm bottle, they are definitely a special addition to any potter's glazing shelf.
Gold Luster Overglaze – View on Blick
Portable Work Board / Wedging Board
Before a potter can start using their clay, they have to prepare it. Part of this preparation is wedging the clay. This is basically working the clay to get rid of any air pockets, and make sure the clay is consistent.
Wedging needs to be done on a clean absorbent surface, and that is where a Wedging Board comes in.
The Xiem wedging board is portable, so you can work on your clay wherever you want. This is great if you are doing demonstrations, or if you have limited space and need to move your working area from place to place. It comes in small, medium, and large sizes.
It also makes a good general clay working surface and it has a non-slip rubber base, so it doesn't move about when it's being used.
Xiem Portable Wedging/Working Board – View on Blick
Piece of Pottery by Favorite Potter
It might seem like a strange suggestion, but a piece of pottery by another potter can be a great gift.
Perhaps the potter in your life loves the work of a particular potter or ceramic artist. Find out whose work they love, then look online to see if any of that work is for sale.
A good place to start is Etsy. Lots of potters have a 'shop front' and sell their work on Etsy. Usually, a mug or a piece of pottery will be between $50 and $100.
It's lovely to have a piece of pottery made by someone you admire. So, this gift would be a very special one that would, I'm sure, be treasured.
Hand Made Pottery – View on Etsy
Customized Pottery Stamp
A customized stamp to sign pottery adds a personal seal to a potter's work.
The design of a custom signature is very personal. But if you know your potter well and they have a logo, then you could base the design on that.
Alternatively, this could be one of those presents that is just 'not a surprise'. You could ask them to create their own stamp design and then have it made for them. All they need to do is act surprised when they receive the gift.
Either way, custom signature stamps can make lovely gifts for potters, even if they are not a complete surprise.
Custom Pottery Stamp – View on Amazon
Gifts for Potters Between $100 and $200
Here are some of the best gifts for potters between $100-200
HEPA Filter Air Purifier
Pottery making generates dust, no matter how careful you are and how well you clean up. It is possible to keep the dust to a minimum, but you can't get rid of it completely. Dust from clay and glazes is known to have adverse health effects over time.
One solution to this is to use a HEPA Filter Air purifier, these filter out very small particulate matter from the atmosphere.
This particular HEPA filter has a medical grade filter and removes 99% of all particulate matter down to dust that is 0.1 microns in size.
I know it doesn't seem like the most glamorous present you could give a potter. But it's definitely one of the most valuable.
HEPA Air Filter – View on Amazon
Budget Pottery Wheel
If you are buying for someone who has been making pottery for a while, they most likely have a pottery wheel already.
However, you may be looking for a gift for someone who is new to pottery. Or perhaps they have been hand-building pottery for a long time. If so, then a pottery wheel can be a great gift.
Pottery wheels range a lot in price. If you want to know more about the different prices of pottery wheels, check out this guide.
However, not all pottery wheels cost a fortune. A good starter wheel for someone who is new to wheel throwing would be the Vevor.
These pottery wheels are great for learning if you are new to pottery. They are inexpensive and they don't take up a huge amount of space in your home or studio.
I started off with one of these budget wheels and it really helped me practice at home between pottery lessons.
This particular model comes with extendable legs so you can adjust the height. Plus, you can choose either an 11-inch or 14-inch wheel head, which is great.
Vevor Pottery Wheel – View on Vevor
Pottery Shelves
Now, this might sound like a strange suggestion as a gift for a potter. However, all potters need shelves. And in fact, the more shelves you have the better. We have so much equipment, not to mention our pottery which is either waiting to be fired, glazed, or sold.
So, some shelving is a practical and thoughtful present. They don't need to be pretty, they just need to hold stuff!
I have adjustable multipurpose shelves in my pottery studio. What is great about them is that the size is very customizable as they come in blocks and units. You can buy them here…
Perfect Shelves for Pottery Studio – See Buying Options
Giffin Grip
Once your pottery has been thrown on the wheel, it needs to firm up. But that is not the end of the story. The pot still needs to be trimmed to remove bulky excess clay, make a foot ring, and improve the shape.
One of the problems with trimming is attaching the pot to the wheel head again so that you can trim the excess clay. Usually, this is done with blobs or strips of clay.
But it can be a pest to center your clay when you are trimming. And, unfortunately, the blobs of clay are not 100% reliable and pots can fly off the wheel head whilst they are being trimmed.
A solution to this problem is the Giffin Grip. This is a gadget that attaches to the wheel head and holds the pot in place with arms and brackets. It's also great for trimming pots that are an awkward shape, such as narrow-necked vases and bottles.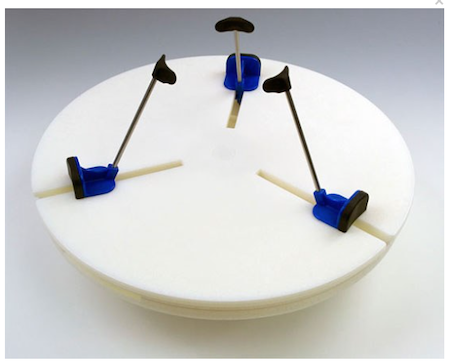 Giffin Grip – View on The Ceramic Shop
Gifts for Potters $300 and Over
This section is dedicated to those higher-ticket gifts that many potters will lust after and long for.
Wedging Table
You can wedge clay on lots of different types of surfaces. But if you are doing a lot of wedging, it really helps to have a decent wedging table. A good wedging table is solid and doesn't move around as you wedge. It's the right height so you don't strain your back. And, it has a cutting wire attached to it as well.
Debcor Wedging Table – View on Blick
Slab Roller
It's possible to make slabs of clay with a rolling pin and some roller guides. However, if you are making a lot of slab pottery, and you need a lot of slabs with an even thickness, then a slab roller is a great idea.
But they do take up quite a bit of space, so a good option is the Minimight II. It isn't too large and it can be bought as a tabletop slab roller. Alternatively, if you want to have it mounted on its own stand, you can buy a leg assembly too.
Either way, there are two different sizes, with one rolling up to 16-inch slabs, and the other rolling up to 22-inch slabs.
Wall-Mounted Extruder
Clay extruders got a mention earlier on in this list of gifts for potters, in the form of the hand-held extruder.
However, another option is to buy a 'wall-mounted' clay extruder. It's a very solid piece of kit that's perfect for potters who make a lot of pieces with handles. It's also good for schools and studios.
The bracket is mounted on the wall and then the lever is pulled down. The clay strip extrudes out of the bottom. One advantage of the wall-mounted extruder is that you can make around 40-50 handles from one barrel of clay.
Also, it's easier to use than a handheld extruder, because you are using the strength of your arm to move the lever. By contrast, with a hand-held extruder, you are relying on the strength of your hand to compress the clay.
Brent Wall-Mounted Clay Extruder – View on Blick
Damp Cupboard
Potters spend a lot of time and effort trying to keep their pottery at the right moisture level. Most pottery studios are full of shelves covered with pieces of pottery covered with plastic in various states of drying out.
This is fine, but plastic sheeting only goes so far in preventing a work in progress from drying out too much. In an ideal world, a pottery studio has a cabinet or cupboard with a controlled moisture level.
A damp-proof cupboard is designed to prevent clay projects from drying out. This particular damp cupboard is made from steel, and the doors are sealed with rubber gaskets that keep the air inside moist. This damp environment keeps the clay moist and workable.
Debcor Damp-Proof Cabinet – View on Blick
Ware Cart
A ware cart is essentially shelving that is specifically designed to support pottery ware in various stages of production.
They are designed to be solid in construction to support the heavy clay without the shelves bowing. But they are also designed to be mobile so that they can be wheeled about around the studio or between rooms.
The advantage of this ware cart by Brent is that you can buy a plastic cover that goes over the top. This stops your pottery from drying out too fast. It's worth remembering that you have to buy the shelves for this cart separately!
Brent Ware Cart – View on Blick
Portable Pottery Wheel
I mentioned pottery wheels earlier and gave you a good option for a budget pottery wheel for pottery newbies. But another really fun gift for potters is a portable pottery wheel.
Most professional pottery wheels are static and heavy. However, there is a great tabletop pottery wheel called the Shimpo Aspire, which is designed to be moved to wherever you want to use it. They come with either a foot pedal or a hand lever depending on your preference.
Shimpo Aspire wheels are good quality professional wheels. But they don't take up a lot of space. And, as I say, they are portable and can be moved easily from room to room.
In fact, the Aspire has a 100-watt motor, which can be plugged into a 400W inverter. This can then be plugged into the lighter socket on a car. So, if you like to make pottery outdoors in the wild, you can take your Shimpo Aspire with you and get back to nature.
This means, that even if a potter has a pottery wheel already, the Shimpo Aspire is a good addition to their pottery tool arsenal.
Shimpo Aspire Pottery Wheel – View on Blick
Pottery Kiln
Without a doubt, this is the most extravagant of the gifts for potters on the list. Kilns are not cheap and it you want to buy a potter a kiln, it's best to consult with them first on the type that might suit them.
However, if they want a compact kiln that will fit in a smaller studio or in a home, the Skutt KM614-3 kiln would be a good choice.
Because of its size, the KM614-3 can be used on a regular household 115V current and only needs 20 amps.
Skutt KM614-3 Pottery Kiln – View on Blick
Choosing a kiln requires some thought and it would be best to consult with your potter. If you want to know more about how to choose the perfect pottery kiln, you can take a look at my complete guide to buying a kiln here.
Handmade Gifts for Potters
Handmade DIY gifts for potters are wonderful. The time, effort, and thought that goes into a homemade present can make it a lifelong treasured possession. I still have some pottery calipers that were made out of wood for me as a gift 20 years ago.
Some suggestions for items that are relatively easy to make, but incredibly useful for potters are:
Check out those links for step-by-step instructions on how to make both of these pottery items. What says "I love you" more to a potter than a handmade raku kiln?
Another simple project as a homemade pottery gift is a great idea I came across on this video called a pottery noodle organizer. Check it out!
Final Thoughts
I hope this post has given you some great ideas for gifts for potters. The good thing about getting a gift for a potter is that it's easy to do some research. Just ask the potter in your life about how they make their pottery. Most potters can talk for ages about how they make their pots. You can secretly be making mental notes as they explain, and get a good idea of what they would like as a gift!