Affiliate Disclaimer
This site contains affiliate links. I may receive a commission from Amazon or other third parties if you make a purchase after clicking on of these links.
Using lettering on my pottery is one of my favorite things. Over the years, I have tried out various different letter stamps for clay, with varying results.
To save you money and frustration, I thought I would review some of the letter stamps for clay that I've tried, and let you know what I think of them. Hopefully, these tips will help you choose the right stamps for you.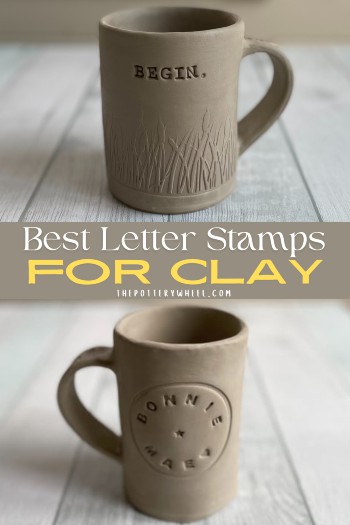 At a Glance – Best Clay Letter Stamps
In case you are in a rush, these are the letter stamps that I personally use all the time and that I would recommend. I will go into a bit more detail about their pros and cons later. But, for those of you in a hurry, these stamps are my top pick…
My top recommendation! Relyef Stamps
___________________________________________________________________________________
Some Other Options to Consider
___________________________________________________________________________________
___________________________________________________________________________________
___________________________________________________________________________________
Letter Stamps for Clay – A Closer Look
Let's take a closer look at each of these options and weigh up the pros and cons of each.
Relyef Stamps
I should say upfront that I am a Relyef superfan! After searching for a long time trying to find the best letter stamps for clay, I came across Relyef. Since then, I can safely say that they are my 'go-to' stamps.
There are a few things that I love about them. Here are the main features that I like best about these stamps:
1) They Make a Clean Impression
Relyef stamps make a very nice clean impression on the clay. They are designed with a graduated angle. This means that there is a gentle slope away from the letter.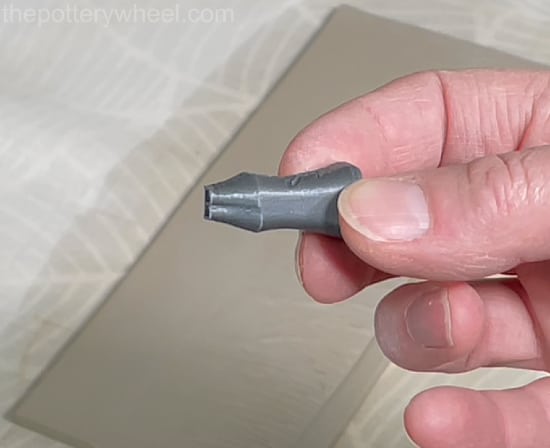 Because of this design, when you press the letter into the clay, all you get is an impression of the letter itself. You don't also get an impression of the block that the letter is mounted on.
With some brands, the mounting block also leaves an ugly mark around the impression of the letter. That's not the case with Relyef. The impression is clean.
The other benefit of this shape is that the stamp comes out of the clay easily after you've made your impression.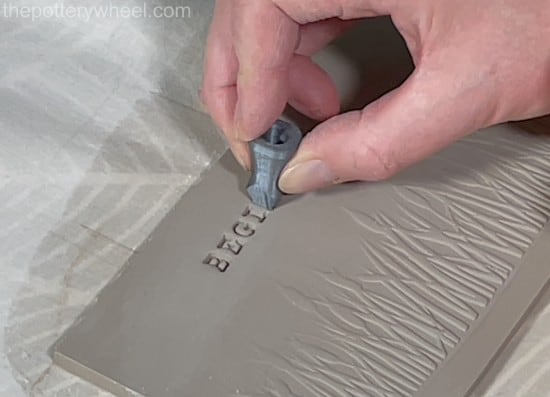 Sometimes letter stamps can stick to the clay and when you try to release them, you make a mess of the clay surface. But because of the graduated angle on a Relyef stamp, they come out of the clay easily and don't leave any mess.
2) They are Easy to Use
The stamps are designed so that they can be pushed onto a wooden rod that is about the size of a pencil. This can make it easier to control where you position the stamp on your clay.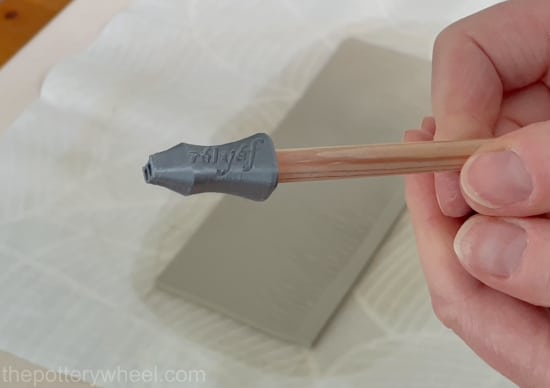 Generally, I prefer to use the stamps without the wooden rod. Without the rod, I can feel where the stamp is pressing into the clay, and I know when I've made a decent impression.
For me, the wooden stick interferes with the feeling of the stamp on the clay. But this is a personal choice, you might prefer to use the stamp on the rod.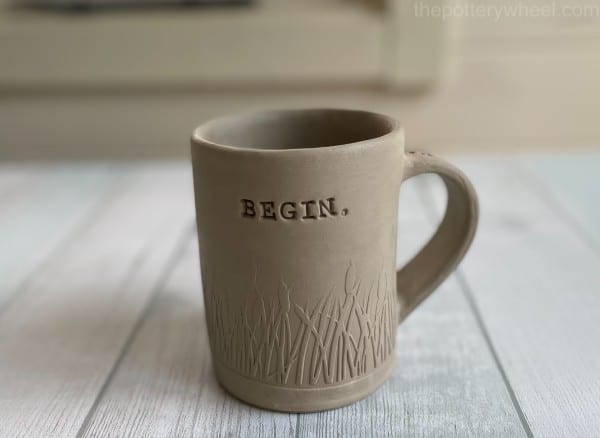 3) They Have a Range of Different Fonts and Sizes
Relyef makes letter stamps for clay in a wide range of fonts to suit your personal style. Their stamps also come in a range of sizes, from 4mm to 26mm. And you can also choose between upper case and lower case lettering.
In addition to letters, they also have a range of number stamps. The number stamps come in different fonts, including Roman numerals. And you can also get the number stamps in a range of sizes.
For example, I use their 26mm Marion number stamps when I'm making ceramic clocks.
You can read more about how I make these ceramic clocks here if you'd like.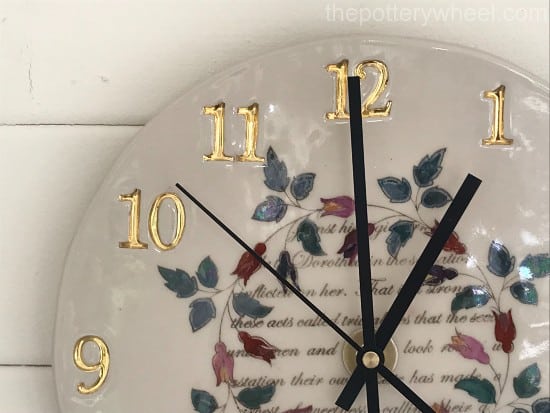 You can check out the Relyef number stamps here.
Pros
The stamps have a graduated angle, making for nice clean impressions
A wide range of letter sizes is available
A choice between upper and lower case letters
Number stamps are available too
Different styles of font
Wooden rod to mount the stamp on for ease of use
Can be used on pottery clay, metal clay, soap, and polymer clay
Storage boxes are available to keep your stamps organized
Cons
Each stamp is individual, no easy way to attach them together in a fixed row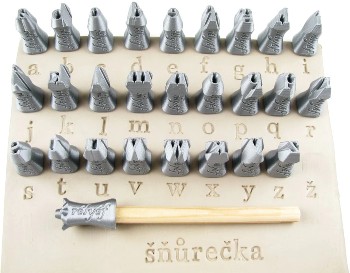 Relyef Letter Stamps – View on Etsy
You can check out me using the Relyef stamps in this video…
Savita Stamps
My second recommendation for letter stamps came as a surprise to me. I bought these stamps out of curiosity and actually, they work well. They are sold as stamps that can be used for pottery or baking, but I found they worked nicely on my clay.
They are made from plastic and arrive attached together in a sheet. You need to snap the letters apart from one another. Apparently, you can snip them apart with scissors too, but I didn't want to blunt my scissor blades. So, I snapped them apart.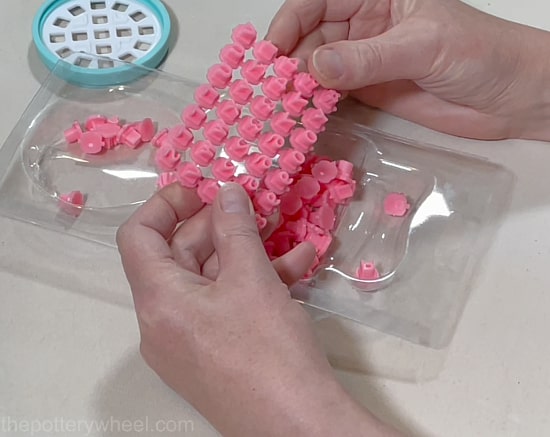 Once they are snapped apart, you can use them as individual letters or you can mount them onto a round stamp tool.
How to Use the Stamp Tool
The individual letters can be inserted into the round stamp tool to form words. Once you have arranged the letters, you snap the back of the stamp tool on, and you can use it to stamp your clay.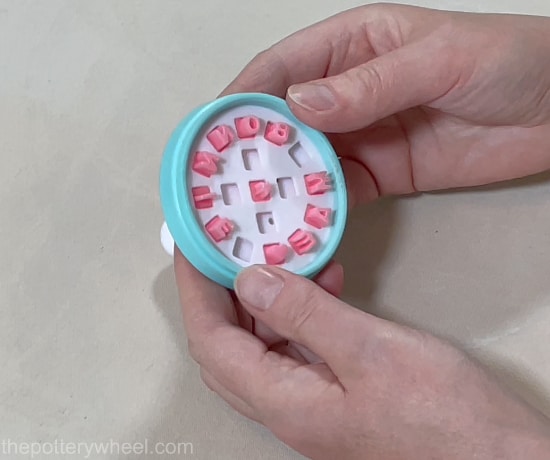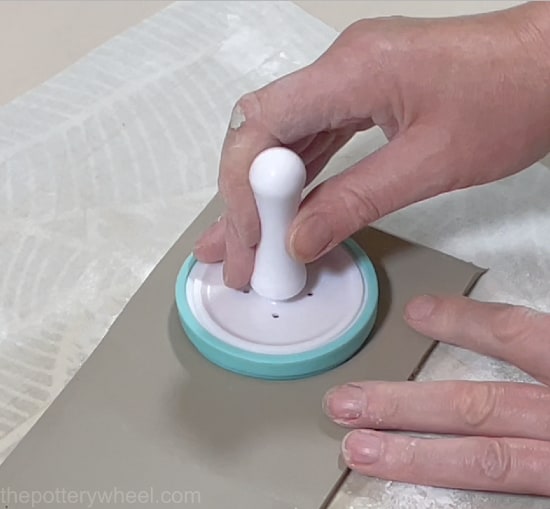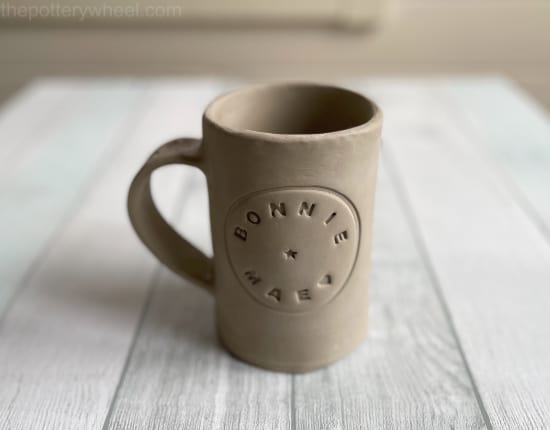 What I Like About the Stamp Tool
I was pleasantly surprised by the impression made by the stamp tool. For the price, it really creates quite an attractive design.
It's easy to assemble and use.
One thing to remember is that when you are loading the letters into the stamp tool, you need to remember to reverse the spelling of the word. Otherwise, when you impress it in the clay it will be spelled backwards.
What I Don't Like About the Stamp Tool
Because there are only 12 letter spaces all around the edge of the stamp tool you are limited to words that are 12 letters or under.
You also get an impression of the rubber circle that the letters are mounted onto. This means that if you're using the stamp tool, your design is limited to a circular design with lettering inside.
It feels quite flimsy and I'm not sure how long it will last.
Using the Individual Letters
Even if the stamp tool doesn't last for too long, you can use the individual letters on your clay.
What's nice about these letters is that they are quite deep. This means that they leave a clean impression on the clay.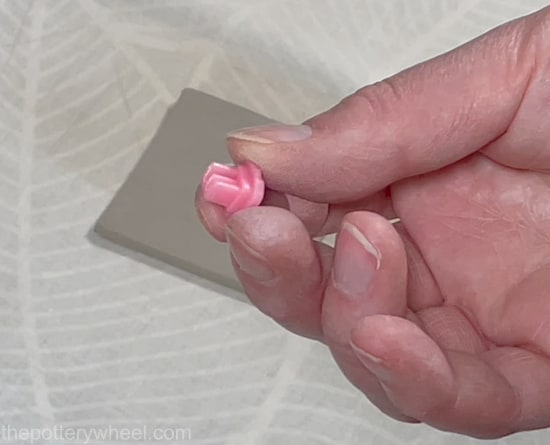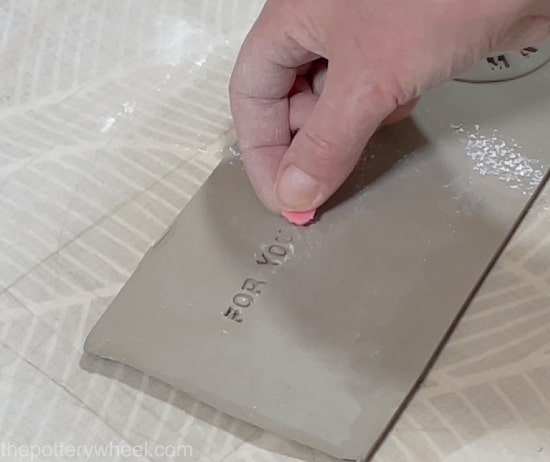 However, the sides aren't graduated (sloping) like the Relyef stamps. So, if your clay is a bit fresh, the stamps don't come out of the clay as easily.
This can mean that the shape of your lettering can get a bit distorted. It helps to dust your clay with cornflour to avoid this.
What I don't like so much about these letters is that they are a bit fiddly. They are small and a little hard to handle. If you aren't using the circular stamp tool, there is no attachment to fix the letters onto. You have to grip them with the tips of your fingers.
This is possible, but it's not as easy to get the letters in a straight line, because mostly what you can see is your fingers rather than the stamp.
Nevertheless, as a cheaper no-frills option, I think these letter stamps for clay are quite a nice addition to your pottery tools kit.
Pros
Deep sides on letters give a clean impression
The stamp tool is quite fun
Affordable price
Cons
The edges of the letters aren't graduated, so they can get stuck in the clay
Letters are small and fiddly so, it's hard to position them accurately
No tool to mount individual letters onto for ease of use
No way to attach individual letters together in a straight row
Stamp mount limited in design
Overall, the quality feels a bit flimsy
Savita Letter Stamps – View on Amazon
Xiem Attachable Stamps
Full disclosure, I didn't actually use these stamps. I bought them and they arrived. But I could tell immediately that they weren't going to work for me, so I sent them back and got a refund.
I normally like Xiem pottery tools a lot, but for me, these letter stamps would not work for clay. The issue with them is that the profile of the letters themselves is very shallow.
The letters are imprinted in metal and mounted on a square plastic post. These posts are designed to attach to one another so you get a nice net line of letters. Which is a good feature.
However, I could tell by looking at them that I would end up with a rectangular impression in the clay around the letter. This is because the letter shape wasn't deep enough and the support would have been pressing into the clay.
I noticed that these are sold as being suitable for ink, paint, and underglaze. It's possible that they would work well for this.
I imagine that if you put some underglaze on the letter, you may be able to make a clean print on bisque-fired clay. Or maybe leather hard clay. If that's what you are looking for, then these may be the stamps for you.
Pros
They snap together in a straight light, vertically or horizontally
Upper case and lower case letters are available
Might work well with underglaze lettering
Cons
The letters have a shallow profile
Only come in one size
No variety of fonts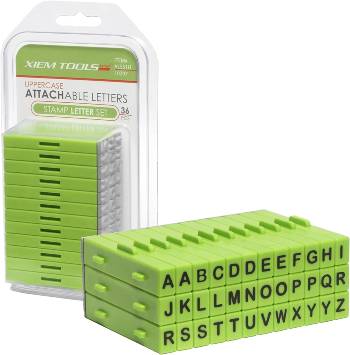 Xiem Letter Stamps – View on Amazon
Steel Letter Stamps
These stamps are made from steel and come in a handy plastic box. The letters come in a variety of sizes ranging from 3mm to 10mm.
They were the first set of letters that I bought some years ago. It's only with hindsight that I realize they are not really designed for use with clay. Instead, they are designed for punching letters into iron and steel.
So, it's not really fair of me to put them at the bottom of my list of choices. It was my mistake to buy them! However, I thought it would be handy to show you what happens if you try to use letter stamps on clay that have a very shallow profile.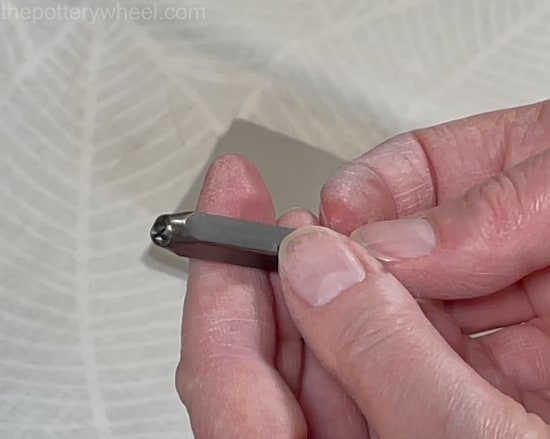 I also thought it's worth mentioning them because if you search for letter stamps for clay, quite often stamps of this kind will show up in your search results. But actually, they aren't really designed for clay and are not suitable.
You can see from this picture that the letter impression is not clear. Also, there is a circle around the letter left by the surface of the punch.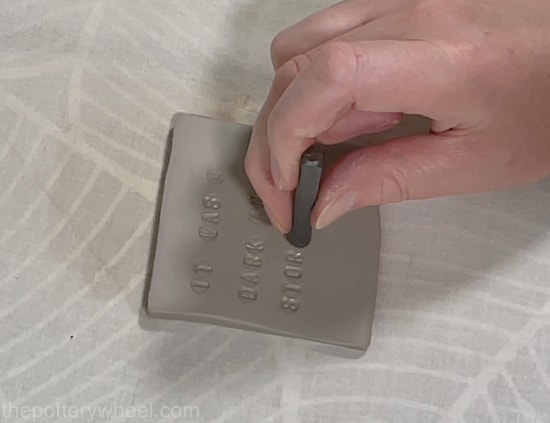 These stamps may well be great at punching letters into metal. But they are not great at letter stamps for clay. I'm including them in this review only to help you avoid making the same mistake as me.
Pros
They come in a range of sizes
Sturdy design made from steel
Stored easily in a handy plastic container
Cons
No upper and lower case
Not attachable
The letters have a shallow profile and don't leave a clean impression
No variety of fonts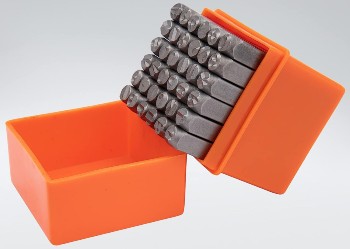 Steel Letter Stamps – View on Amazon
Best Large Letter Stamps for Clay
The best large letter stamps for clay are made by Relyef. They make letter and number stamps up to 26mm (1 inch) in size. These stamps come with all the benefits I outlined above and are beautifully made in ecological bioplastics.
Having said that, MKM Tools also make a nice range of letter stamps. Some of these are 0.6 inches (1.5cm) in diameter. You can check them out here.
I haven't used their stamps yet, but they look nicely designed and they have a range of fonts, sizes, letters, and numbers.
If you are looking for large letter stamps for clay, I think these would be worth a look.
Best Small Letter Stamps for Clay
If you are looking for smaller letter stamps for clay, again I'd recommend Relyef. They make stamps as small as 4mm (about 8th of an inch). Because they come with a wooden rod, these smaller stamps are easy enough to handle.
Having said that, if you are working on a tighter budget then the Savita stamps that I reviewed earlier on are a good option. These smaller letter stamps do a good job at a lower price.
Tips on Using Letter Stamps for Clay
Here are a few tips on getting the most from your letter stamps:
Avoid using letter stamps on very wet/moist clay. The clay will grab onto the stamp and make it harder for you to release the stamp once you've made the impression.
If your clay is sticky and wet, you can dust it with a little cornstarch. This will make the surface of the clay less soggy and your stamps will release more easily.
When you have pressed your stamp into the clay, give it a gentle wiggle about. This will make sure that the letter has impressed evenly into the clay. It's frustrating to remove the letter from the clay to find that a corner of the stamp hasn't left an impression.
If you are using different colored clays, be sure to clean your stamps after you use them. When traces of colored clay are left on the stamp, these will be transferred onto the clay the next time you use them.
Final Thoughts
Lettering on clay can give your pottery a whole different feel. It can bring meaning to a piece or personalize it beautifully. Writing on clay freehand can be tricky and hard to make look presentable. Letter stamps for clay are a great way to achieve this look. Now, all you need is some killer quotes and you are all set!