Affiliate Disclaimer
This site contains affiliate links. I may receive a commission from Amazon or other third parties if you make a purchase after clicking on of these links.
I decided to buy a table top pottery wheel. The two most highly recommended table top pottery wheels I could find, are the Shimpo Aspire and the Speedball Artista. But which one is the best?
I wanted a table top pottery wheel that I could put in the back of my car, and transport easily. It was also important that I found something that I could store easily when I wasn't using it. But equally, I wanted something sturdy, strong, and well made.
So, I did some research in my quest to make a decision, and this is what I found out about each of them.
The Shimpo Aspire Table Top Pottery Wheel
Here are some of the features of the Shimpo Aspire. The first thing that most of us want to know about is the price range, so let's cover that first….
Price
The price range for the Shimpo Aspire is between $480 and $544 depending on the features of the model you chose. As such it is one of the most affordable pottery wheels you can buy. A table top pottery wheel is a more economical option and will cost less than a free-standing pottery wheel.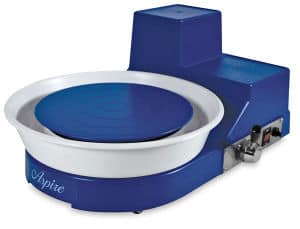 The Basic Set-Up
The Shimpo Aspire is compact. It is 9" high, 14.5" wide, and 20" long. And it weighs only 25lb. This means that you can move it about easily. And you can store it on a shelf out of the way when you are not using it.
To make it this compact, Shimpo have made the wheel head a little smaller than standard. The wheel head is the disc that is attached to the motor and spins. It is the plinth that you make your pots on. On most pottery wheels the wheel head has bat pins. These are basically metal nuts that you can attach a bat onto.
Not all pottery wheels have bat pins, so, you can't easily attach a wheel bat. The beauty of bats is that once you have made your pot, you can lift the bat off the wheel. The bat and the pot can then be put to one side to dry a little before trimming.
Most pottery wheel heads are 11" or wider, with bat pins that are positioned 10" apart from one another. The wheel head on the Shimpo Aspire is 7" wide. And the bat pins are positioned 6" apart. The actual bats that Shimpo supply are 9 ¾" wide. So, once the bat is attached, your throwing area is larger than the wheel head.
With the Shimpo Aspire the nuts for the wheel head arrive separately, and you simply screw them into place. Then you can press the bat onto the bat pins. The holes on the underside of the bats are lined with rubber gaskets so the bat grips in place firmly. This helps to prevent the bat from wobbling when it is in place.
Bats for the Shimpo Aspire
This table top pottery wheel comes with two plastic Shimpo bats as standard. When you are buying additional bats, you will need to buy bats that have holes 6" apart. This, however, is not a problem. Obviously, Shimpo themselves supply additional bats that fit this wheel. But you can also buy Masonite bats from Dirty Girl that fit the Shimpo Aspire.
Another option is to buy your bats from North Star Equipment. North Star will drill your bat pin holes where ever you need them to be at no extra charge.
Because the wheel head is a little smaller than other wheels, the Shimpo Aspire is not compatible with Giffin Grips. A Giffin Grip is a trimming tool that attaches to the wheel head and bat. The Giffin Grip holds pots in place as the wheel head turns and you trim
Luckily there is a trimmer made to fit the Shimpo Aspire. It's called a Bailey Quick Trim. The Bailey Quick trim comes in different sizes. The one that fits the Aspire is the small 12.5" diameter Bailey Quick Trim.
The great thing about the Bailey Quick Trim is that it retails at around $95. This is less expensive than the Giffin Grip, which normally retails at around $200.
The Splash Pan
Cleaning your wheel is not the most exciting aspect of making pottery. However, it is something that you should do every time you use your pottery wheel. So, having a splash pan that is easy to clean is a big plus.
The splash pan on the Shimpo Aspire is made in one piece. The good thing about this is that it doesn't leak. Some two-piece splash pans leak at the joint and make a mess.
The Shimpo Aspire splash pan is also very easy to remove. Once you have removed your pot along with the wheel bat, the splash pan simply lifts off. You can then easily rinse it and attach it back onto the wheel.
To attach the splash pan back in place, you lower it down over the wheel head. Once it is in place, you turn it gently so that it locks in place.
The Controls
The Aspire can be operated by a hand lever or a foot pedal. When you buy the wheel, you can specify if you want a hand lever or a foot pedal operated model.
However, if you buy the hand lever option and change your mind, you can get a foot pedal conversion kit. This is very easy to install.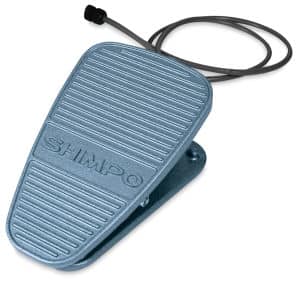 Shimpo Aspire Foot Pedal – View on Blick
Whether you want the hand lever or the foot pedal depends on how you throw your pots. Some potters will set the speed when they start a piece. And throw at that speed as they make the whole pot. If that is your style, then a hand lever may be a good option. As you don't need to constantly adjust the lever as you are throwing.
However, other potters will vary the speed of the wheel head quite a bit as they throw. And for them, the foot lever may be a better option. I fall into this category, and I much prefer a foot pedal. Also, I don't really like operating levers and switches with hands covered in clay slip. It's just more clean-up!
Speed
The Shimpo Aspire pottery wheel is fast. RPM is the number of times the wheel head rotates per minute. The hand lever Shimpo Aspire spins at 0-230 rpm. Whilst the foot pedal model spins at 0-250 rpm. Both the hand lever and foot pedal models have plenty of speed.
How fast you like the wheel head to spin is a personal choice. Some potters like to work at a slow speed. And some like to work at faster speeds. Therefore, RPM is important, and this is one of the positive features of the Shimpo Aspire. But having a high RPM does not necessarily equate to having power. So, how powerful is the Shimpo Aspire?
Power
The Aspire has 1/3 or 0.33 HP and can center up to 20lb of clay. To put this in perspective, to make a large mug you need between 1-2lb of clay So, if you make regular-sized pottery such as mugs and bowls, the Shimpo Aspire will be more than adequate.
Another very big bonus with the Shimpo Aspire is that it has a 100-watt motor. This means that you can plug it into a 400W inverter. The inverter can then be plugged into a lighter socket in a car. And you can use your wheel when you are out and about. This is perfect if you like to throw outdoors in nature. Or if you want to use demonstrate using the wheel at outdoor events.
However, one of the only drawbacks of the Shimpo Aspire is the positioning of the motor. The motor is housed in a plastic casing next to the wheel head. The plastic casing can be used as two platforms to support your water bucket and tools.
However, because the two platforms are next to the wheel head, you can't throw very wide pieces. For example, making a very wide platter would not be possible on the Shimpo Aspire. Bowls, regular-sized plates, cups, mugs, and vases are fine. But large diameter platters would not be feasible. So, if making large platters is your thing, then the Aspire might not be for you.
Sturdiness
Although this wheel is light and compact, it does stay in place whilst you throw. It has 6 rubber feet on the base, that grip onto the surface you place it on. My concern about a table top pottery wheel was whether it would be too light to stay in one place. But all reports on the Shimpo Aspire indicated that it stays put once you have settled down to work.
Wheel Head Direction
This table top pottery wheel does not have a reverse switch. The direction you prefer your wheel to turn is a matter of personal choice. Most right-handed potters prefer their wheel to turn counter-clockwise. And the majority of left-handed potters prefer it to go clockwise. But this is not always the case.
Although the Shimpo Aspire doesn't have a reverse switch, you can specify wheel head rotation when you buy it. Whilst a reverse switch can be handy, it isn't essential by any means.
Overall, I found that there were lots of plus points to the Shimpo Aspire. But how does it compare to the other popular table top pottery wheel, the Speedball Artista? Let's take a look at that model and see…
The Speedball Artista Table Top Pottery Wheel
Here are some features of the Speedball Artista, to help you decide which table top pottery wheel is best for you. Again, let's start with the all-important question of price range…
Price
The Speedball Artista ranges from around $460 for a lever-operated model to $564 for a foot pedal model. So as far as price goes, this is pretty much on a par with the Shimpo Aspire. There is not much to call between the two brands in terms of price.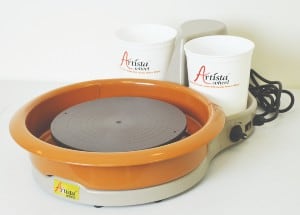 Speedball Artista – View on Blick
Basic Set-Up
The Speedball Artista is lightweight and weighs only 26lb. Its dimensions are a little larger than the Aspire, measuring in at 9"x18"x24", so it's a little wider and longer. However, unless space is at a premium for you, an extra few inches all around, may not be an issue.
The wheel head is just under 4" above the table top, and it is 11" in diameter. So, this table top pottery wheel, has a standard-sized wheel head, in spite of being lightweight and compact.
The bat pins arrive separately in the packaging, but they are easy to screw into place. And, the distance between the bat pins is a standard 10". This means that you can use a range of different brands of wheel bat.
You get two bats in with the package. One of these is a 7-inch square bat and the other is a 12" round bat. In addition to this, you also get two buckets that sit securely into two cup holders on the wheel. These buckets can be used to hold tools and water.
The Splash Pan
The splash pan comes in two parts. To remove it you have to pop off the smaller part of the splash pan. You then slide the other larger section of the splash pan off. It is easy to remove and clean, and easy to put back into place. You don't have to remove the wheel head or bats to remove the splash pan.
The splash pan on the Speedball Artista locks into place through a sliding mechanism. You slide the splash pan into a groove and then secure it in place with the second section of the pan. This is different from the Shimpo Aspire which locks in place by lowering the splash pan over the wheel head. And then twisting it to lock it securely. Both these locking designs work well, and it's really a matter of personal preference which appeals to you most.
The Controls
The Speedball Artista can be operated by hand or by using an optional plug-in foot pedal.
Hand Operation: The on/off power switch is located on the right-hand side of the wheel. Right next to this is a dial or knob, that controls the speed at which the wheel head rotates. This has a smooth operation and can be altered as you throw.
However, if you prefer to use a foot pedal, the Speedball Artista has a foot pedal that can be plugged in easily. It has a jack adaptor that can be simply be plugged in. One thing to be aware of is that if you plug the foot pedal in, it overrides the dial control. So, you can either use the foot pedal or the dial, you won't be able to use both at the same time.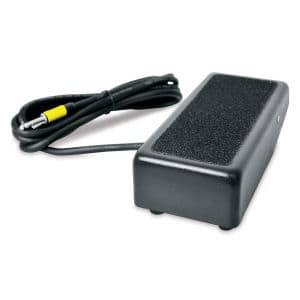 Speedball Artista Foot Pedal – View on Blick
Speed
This table top pottery wheel has an operating speed of 0-220 RPM. Therefore, it has a slightly lower RPM than the Aspire. However, as stated earlier, having a higher RPM does not necessarily equate to being more powerful. So, how does the Speedball Artista compare in terms of power?
Power
The Speedball Artista also has 1/3 HP (0.33). But what does this mean? If it has slightly lower RPM than the Aspire and it has the same Horsepower, then surely it is less powerful?
Actually no, the spec on the Speedball Artista states that it can center up to 25lb of clay, which is more than the Shimpo Aspire. And plenty of potters are of the opinion that the Speedball Artista has more torque than the Shimpo Aspire.
Torque is the force at which an object rotates around an axis. In the case of a pottery wheel, it is the force with the wheel head turns on its shaft. If it has plenty of torque it won't slow down or stop rotating as you put it through its paces.
All the research I did suggested that the Speedball Artista was less likely to slow down as it worked harder.
Wheel Head Direction
Like the Shimpo Aspire, the Speedball Artista does not have a reverse function. However, you can specify if you want a wheel that turns counterclockwise or clockwise. Right-handed wheels rotate counterclockwise, and left-handed wheels rotate clockwise.
Optional Extras
One of the benefits of the Speedball Artista is that you can buy attachable legs. This gives you the flexibility to transform it from a table top pottery wheel to a free-standing wheel. This is a real asset.
You can buy lightweight aluminum folding legs which you can transport with you or fold away after using the wheel.
Or you can buy static steel legs if you want to switch to a free-standing wheel more permanently.
Overview of the Shimpo Aspire and Speedball Artista
Shimpo Aspire
Speedball Artista
Dimensions
Weight
Wheel Head Diameter
Bat Pin distance
Manufacturers Bat size
Wheel Head Material
Drive
Splash Pan
Controls
Speed (RPM)
Horse Power
Centering Capacity
Reverse
Left/Right Hand
Optional Legs
Price Range
9″x14.5″x20″
25lb
7″
6″
9 3/4″
Alloy
Belt
One-Part
Hand or foot
0-230 / 0-250
1/3 HP
20lb
No
Yes
No
$480 – $544
9″x18″x24″
26lb
11″
10″
12″
Teflon coated
Belt
Two-Part
Hand or foot
0-220
1/3 HP
25lb
No
Yes
Yes
$460 -$564
Made up Your Mind?
With all that information in mind, have you decided which one will suit you most?
The Verdict on Table Top Pottery Wheels
A table top pottery wheel is at the lower end of the price range as pottery wheels go. However, both the Shimpo Aspire and the Speedball Artista are in the same price bracket of around $460-560. And even though it's at the lower end, it's still a chunk of money for most people.
So, I wanted to make sure that I was choosing wisely. In the end, I decided to go for the Shimpo Aspire. The reason for this was that it is a little more compact. Also, you have the option of plugging it into an inverter and running it from a car battery. I liked the idea of being able to go alfresco and throw pots in the countryside. In the end, this video swung it for me…
On paper, the Shimpo Aspire has a slightly lower centering capacity at 20lbs. But I figured that by the time I'm throwing pots that large, it will probably be time for an upgrade anyway.
Of course, different potters will have different needs, and you may decide differently. Both of these models stood up very well to scrutiny, and in truth, I think either would be great. I just felt that on balance the one for me was the Aspire. Whichever table top pottery wheel you choose, I hope you enjoy many hours of pottering.