Affiliate Disclaimer
This site contains affiliate links. I may receive a commission from Amazon or other third parties if you make a purchase after clicking on of these links.
The only way to get better at making pottery on a wheel is to practice as often as you can. The best way to do this is to buy your own pottery wheel. And, if you are starting out, you probably don't want to spend a fortune. But is buying a cheap pottery wheel a good idea? And if so, what is the best budget pottery wheel on the market?
How Much is a Cheap Pottery Wheel?
The first thing to say is that pottery is not a cheap hobby. Some pottery equipment is eye-wateringly expensive. So, you might be surprised to know that a cheap pottery wheel falls in the $100-200 price range.
If you are starting out, this may seem like quite a lot of money. Especially if you are trying to figure out if pottery is for you.
The first pottery wheel that I bought cost about $150 and at the time it was a stretch for me. It seemed like a lot of money as a starter wheel. But, compared to some of the other more 'professional' wheels out there, it really was quite cheap.
Higher-end pottery wheels cost in excess of $1000. So, picking up a wheel in the $100-200 range is definitely at the budget end of the spectrum.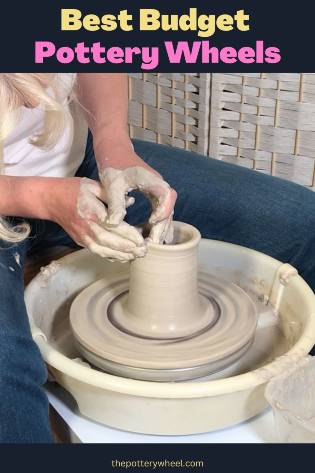 What is the Best Cheap Pottery Wheel?
With pottery growing so massively in popularity, a lot of people want to buy their own potter's wheel. In response to this demand, there has been a growth in the number of budget pottery wheels available to purchase.
And, you will be pleased to know that many of them are actually very good. Here are the best options on the market at the best prices.
Model 1) Budget Pottery Wheel with Legs
VEVOR make a range of pottery wheels and they are all priced very competitively.
The first one that I wanted to take a look at is the VEVOR wheel that has legs. The reason I wanted to look at this one first is that this was the first pottery wheel that I owned, and I loved it.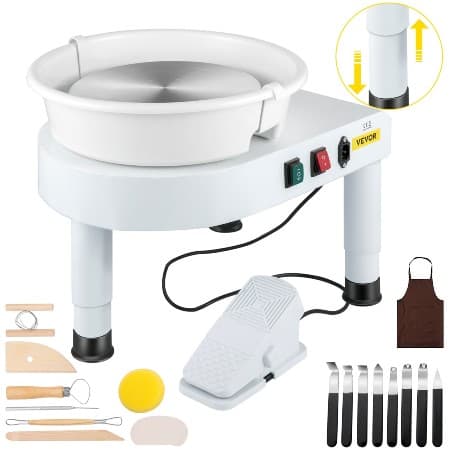 Pottery Wheel with Extendable Legs – View on Vevor
Here is my VEVOR pottery wheel in action.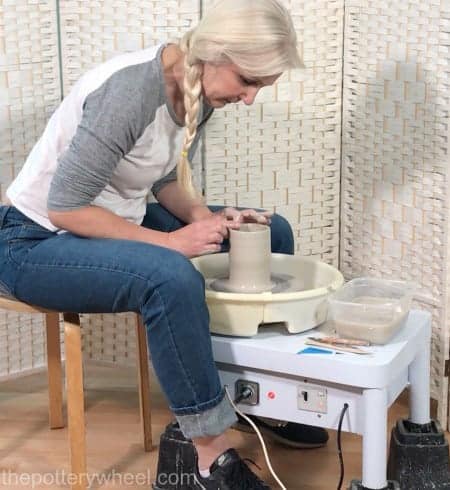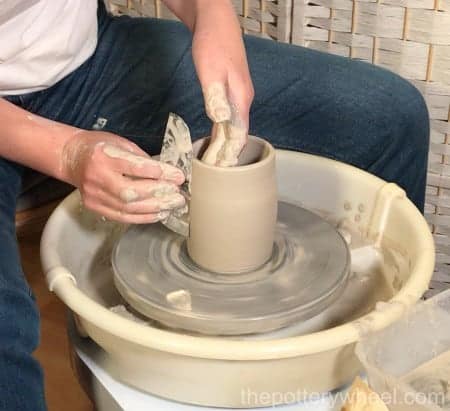 These are some of the best points that I found about this VEVOR…
Easy to use straight out of the box
It's powerful enough to do everything that I need it to do. I learned how to throw mugs, bowls, vases, and plates on this wheel.
Smooth operation – the wheel turns smoothly and evenly
It is easy to clean. The splash pan (the plastic bowl that goes around the rotating wheelhead) is in 2 parts and can be removed easily to clean.
It has a reverse switch, so you can change the direction of the wheel depending on your preference.
The foot pedal is smooth and easy to control.
It's fast – the wheelhead rotates at 0-300rpm, which is very fast.
The VEVOR is quiet. This means that I could use it in the evening without worrying about bothering anyone else.
It only weighs 44lbs, so it's easy to move about and tidy away when it is not in use.
In addition to being light, it is also compact, so it can be stored easily.
And finally, the VEVOR seems pretty corrosion resistant. The wheel head is made of aluminum alloy and has not corroded.
The model that you see me using in the pictures above, is actually an earlier version of the same wheel. I've noticed a couple of great things about the recently updated version.
Some Great New Features
Let's take a look at how the VEVOR has evolved…
1st New Feature – Extendable Legs
The new version has extendable legs. The VEVOR is just 16 inches tall, which is quite a short pottery wheel. I'd certainly find this too short to use comfortably. I solved the issue with a workaround, putting the wheel on bed risers to bring it up to the height that I needed it to be.
However, VEVOR has come up with a solution of their own, and the newer model has extendable legs. This means that you can raise or lower the height of the wheel to suit your needs.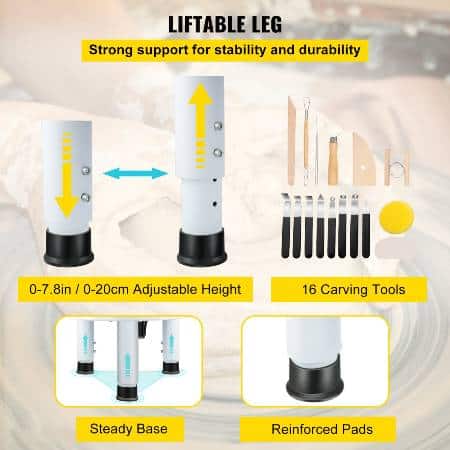 2nd New Feature – Wider Wheelhead
Secondly, you can buy the newer model with either an 11-inch turntable or a 14-inch one. The turntable on a pottery wheel is called a wheelhead. Having a larger wheelhead is an advantage if you want to throw wider items like plates.
That being said, my VEVOR has one of the original 11-inch wheelheads and I found it to be big enough to make plates. And the 11-inch VEVOR has the advantage of being just a little bit cheaper than the 14-inch version.
Budget Pottery Wheel With Legs – Specification
| | |
| --- | --- |
| Turntable | 11″ or 14″ |
| Speed | 0-300rpm |
| Power | 450W |
| Voltage | 110V |
| Noise | 60dB |
| Extendable Legs | Yes |
| Reverse Switch | Yes |
| Weight | 44lb |
| Size | 25″x16″x16″ |
| Height of wheelhead | 16″ |
| Foot Pedal | Yes |
| Pedal Cable Length | 70″ |
This is a great cheap pottery wheel. VEVOR have developed their older model and added some good new features. If I was buying a budget wheel again, I would definitely feel happy purchasing this one.
But, before you decide, you might want to check out some other options with different features that might appeal.
Model 2) Budget Pottery Wheel with LCD Touch Screen
The LCD model has a similar design and overall look. But it does have one key difference, and that is that the control switches on the side have been swapped out for an LCD touch screen panel.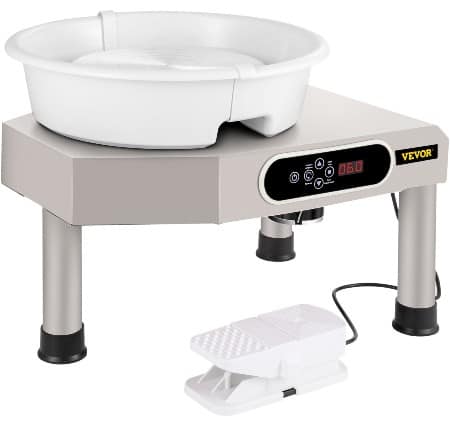 Pottery Wheel with LCD Touch Screen – View on Vevor
You can control a number of things on the touch screen panel including the following:
Turning the wheel on and off
Switching between using the foot pedal and controlling the speed of the wheel by hand
If you want to control the wheel speed by hand, you can adjust this on the LCD panel
Setting the wheel head to rotate clockwise or anti-clockwise
It's worth stressing that the control panel is waterproof, so you can use it safely even when your hands are covered in clay slip.
Pros
There are a number of advantages to this cheap pottery wheel, so let's take a look at those now:
The LCD touch screen makes it easy for you to customize your experience of using the wheel.
It uses 350W of power, which makes it powerful enough to cope with most regular-sized pottery projects.
It is quiet, only generating 50dB when operating.
It's compact, cleaned, moved, and stored away easily, if space is at a premium.
Like all of the VEVOR wheels, it has a brushless motor, which is more efficient than brushed motors. This means that the wheelhead can rotate fast. 0-300rpm is fast for a pottery wheel.
Cons
However, there are a couple of things to bear in mind if you are thinking about buying this wheel.
This pottery wheel doesn't have extendable legs, so, unless you are tiny you will need to raise it off the ground in some way. You could either use it as a tabletop wheel, or place it on a low table like a coffee table. Or alternatively, you can put the legs on bed risers as I did with my budget pottery wheel.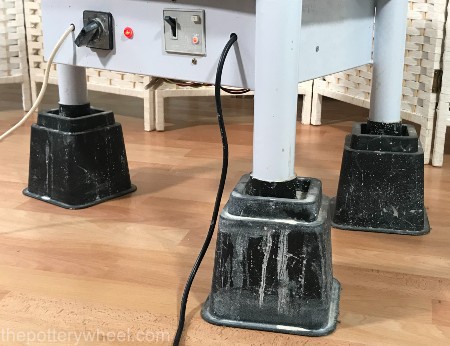 The wheel head is 9.8", which is quite small. It's still large enough to make pieces like mugs, bowls, and vases. But it might be tricky to make a plate on a 9.8" wheel head. Not everyone wants to make plates, but if you do, you may want to think about sizing up.
LCD Touch Screen Wheel Specification
| | |
| --- | --- |
| Turntable | 9.8 inches |
| Speed | 0-300rpm |
| Power | 350W |
| Voltage | 110V |
| Noise | 50dB |
| Extendable Legs | No |
| Reverse Switch | Yes |
| Weight | 26.5lb |
| Size | 19″x13.8″x15.2″ |
| Height of wheelhead | 15.2″ |
| Foot Pedal | Yes |
| Pedal Cable Length | 35″ |
| LCD Screen | Yes |
Both of the above models are pretty compact as pottery wheels go. But if you are looking for something that is super compact that can be stored away easily on a shelf, you might want to try the following wheel.
Model 3) Budget Tabletop Pottery Wheel
A small but nicely formed pottery wheel…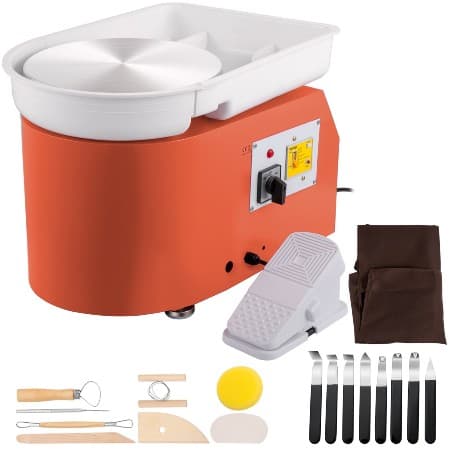 Budget Tabletop Pottery Wheel – View on Vevor
It may sound a bit bonkers but I actually own this wheel too. Yes, it's an obsession. I have 3 pottery wheels and I'm running out of space. But in my defense, I did buy this for my daughter. So, there is a method behind the madness.
The reason I got this model for my daughter (who is 6 years old), is that the wheelhead sits at just 12.5 inches off the ground. This is a perfect height for her. I put the wheel on an upturned crate, and she sits on a stool next to it whilst she makes her own pottery.
There are other pottery wheels designed for children on the market. But those wheels are toy wheels and don't give a child the real experience of making pottery on the wheel.
By contrast, the tabletop VEVOR has the same power as the other wheels described above and really can be used by adults for throwing pots.
I'm hoping she's going to follow in her mama's footsteps!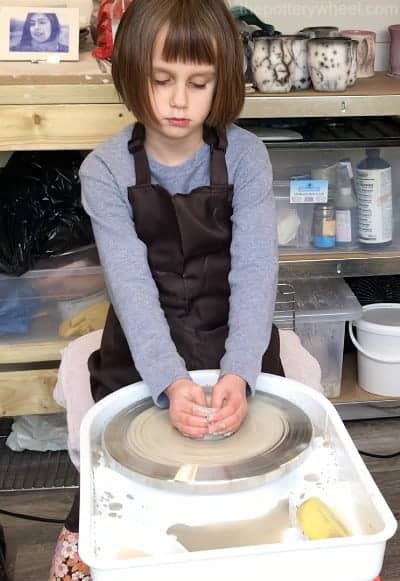 That being said, this pottery wheel is not a toy and it is designed to be used by adults who want to learn how to throw on the wheel. It's also a good option if you already know how to throw, and want a compact wheel to keep at home for practice.
Pros
There is a lot to be said in favor of this dinky budget pottery wheel…
It has a good-sized wheel head at 11", so you can throw larger pieces. I bought this model for my daughter and she isn't nuts about letting me use it. However, I have used this pottery wheel to throw some nice pieces when she lets me. It's a perfectly good wheel for adults too.
The wheel is short at only 13.8" in height. This means it can be used on the ground (by children!), or it can be placed on a table and used by adults.
You have the option of buying a model that is controlled by a hand lever or a foot pedal.
The splash pan has sections for placing your pottery tools as you work.
Because of its size, it can easily be stored out of the way on a shelf or in a cupboard when not in use.
It has a large flat surface area, so if you are buying it for a child you can decorate the base with decals!
Cons
There are a few things to be aware of when considering this cheap pottery wheel…
Although this wheel is more compact in terms of its size, it is just a little bit heavier, weighing in at 29.32 lbs.
Although the splash pan has sections in for storing your tools, there isn't much space between the wheel head and the rim of the splash pan. This means you can get a bit splattered with clay slip if you don't wear an apron.
It's too short to be used directly on the ground by an adult, so you would need to position it on a squat table like a coffee table. A table or a box about 7 inches high would be suitable.
Budget Tabletop Pottery Wheel Specification
| | |
| --- | --- |
| Turntable | 11 inches |
| Speed | 0-300rpm |
| Power | 350W |
| Voltage | 220V |
| Noise | 60dB |
| Extendable Legs | No |
| Reverse Switch | Yes |
| Weight | 29.32 lbs |
| Size | 20.5″x13.8″x 12.5″ |
| Height of wheelhead | 12.5″ |
| Foot Pedal | Optional |
| Hand Control | Optional |
| Pedal Cable Length | 27″ |
My Verdict on Budget Pottery Wheels
A cheap pottery wheel is a great way to get started. You won't break the bank, and it will give you a good opportunity to practice your skills and find out if you really love making pottery on the wheel.
If you don't have much room and space is at a premium, I would suggest that the budget tabletop wheel might suit you best. It can be stored away easily in a cupboard without taking up too much room.
However, the budget wheels with legs feel more solid. Also, in my opinion these wheels feel closer to what it is like using a higher end pottery wheel like a Shimpo Whisper. They also have a larger splash pan, which feels roomier and is less messy with the clay.
Whilst the LCD controller is a nice touch and looks rather fancy, I'd say that having extendable legs is of more practical value. For my money the pottery wheel with liftable legs is the best option out of the three above.
Mid-Range Pottery Wheels
I mentioned above in the introduction that premium pottery wheels are usually priced in the $1000-2000 range. If you want to know more about how much a pottery wheel costs, you can check out my article on exactly that here.
However, there are some mid-range wheels that are priced somewhere between the budget and premium end of the spectrum. These mid-price range wheels are in the region of $500-600.
The benefit of buying a mid-price range wheel is that they generally have more power and torque than wheels at the budget end.
What's expensive to one person may seem reasonable to another. And if you have the finances, you may want to splash out on a mid-range wheel as a starting point for your pottery hobby.
If that's the case, you might want to look at the Shimpo Aspire as a mid-price range option. These are great tabletop pottery wheels, but they don't bust the bank when you are starting out.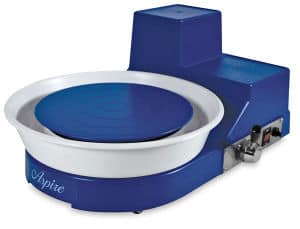 The Shimpo Aspire – View on Blick
This is a mid-range pottery wheel, and this article is about budget wheels, so I won't go into it in too much detail here. But if you do want to know more about this particular model, you can check out my buyer's guide to the Shimpo Aspire and the Speedball Artista Wheels. That may help you decide if you want to go down that route.
Should I Buy a Cheap Pottery Wheel?
So, there you have it, those are some of the best budget pottery wheels on the market. After having read my reviews, hopefully, you will feel in a better place to make a decision.
However, if you are still debating on which way to go, you might find the following points about the pros and cons of buying a cheap pottery wheel helpful. So, let's take a look at those now…
Pro's
You have a pottery wheel to hand at any time and can practice your throwing skills as often as you like.
Avoiding the expense of borrowing a wheel at a local pottery studio or art school.
Practicing in the privacy of your own home – your mess-ups aren't quite so public whilst you get the hang of the basics.
A cheap pottery wheel tends to be smaller, lighter, and more compact than more expensive wheels. This means that it's easier to find space to use and store them in your home. And you can move them around more easily.
If you decide you love making pottery, you can always upgrade to a larger more expensive wheel at a later date. AND you don't need to get rid of your budget pottery wheel. You can keep it as a spare and use it for other tasks like trimming your pottery or using it as an electric banding wheel.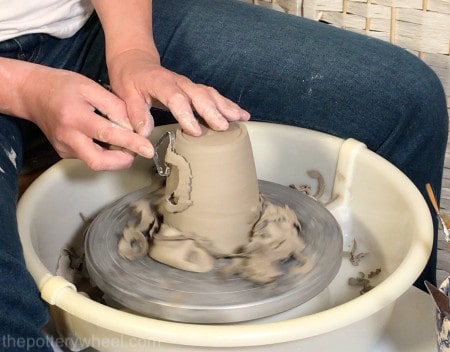 Con's
Here are a couple of potential drawbacks to buying a cheap pottery wheel…
1) Horsepower and Torque
Less expensive pottery wheels not surprisingly tend to have a lower spec than more expensive wheels. What this means in real terms is that they usually have less power and less torque.
When you see a pottery wheel for sale, the spec will typically include how much horsepower the wheel can generate. Cheaper wheels generally have less horsepower.
Torque refers to the force the machine exerts when the wheel rotates. Torque is important with a pottery wheel because as you shape the clay you are putting pressure on it. If the wheel lacks torque, it will slow down when you apply pressure.
Having lower horsepower and torque is usually seen as of the disadvantages of owning a cheap pottery wheel.
However, HP and torque are much more relevant to experienced potters who throw large amounts of clay. When you start out, you will be making things like mugs, bowls, and plates, none of which need to use a lot of clay. As a beginner, you will be focussing on throwing smaller items. And a budget pottery wheel is more than capable of handling a smaller amount of clay.
I started off with a cheap pottery wheel that had 1/3hp and this was more than enough to make what I wanted to make at the time.
2) They Often Don't have Bat Pin Holes
Bat pins are metal nuts that screw into holes on the wheel head. They are designed so that you can attach a circular wooden or plastic bat to the pottery wheel. The idea is that you then throw your pot onto the pottery bat. And the bat can easily be removed, along with the pot, once you have finished throwing.
Bats are handy if you are making large or flat pieces that would be hard to lift off the wheel without destroying them.
Many budget wheels, including the VEVOR wheels, don't have bat pin holes. The intention is that you throw directly onto the aluminum wheelhead, then lift the pot off the wheel once you are finished. This is easy enough to do, however, there is a knack to it. If you want to know how to do this, you can check out my article on that topic here.
Alternatively, there are ways that you can fix a pottery bat to a wheel head without using bat pins. The simplest way to do this is to use something called a BatMate. This is a circular piece of fabric that feels a bit like chamois leather.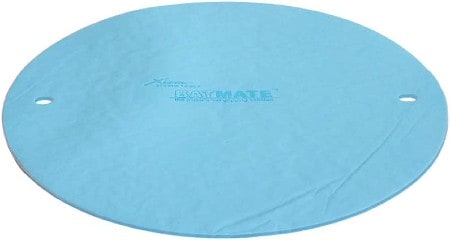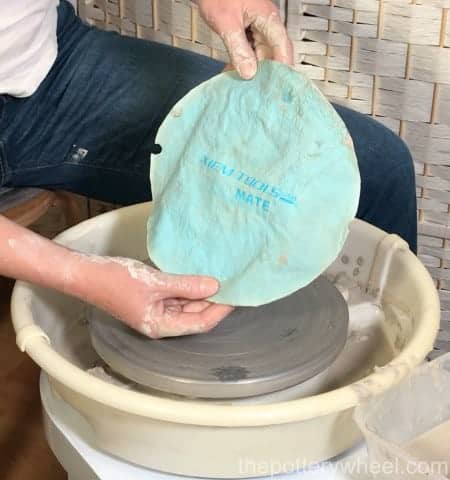 You wet the BatMate, then wring it out so that it is damp but not wet. Put the BatMate on your wheelhead and then place the pottery bat on top of the damp BatMate.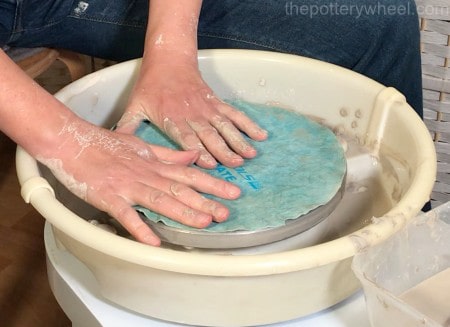 Apply a bit of pressure to make sure the batt is stuck down. Then you can throw onto the bat rather than the wheelhead.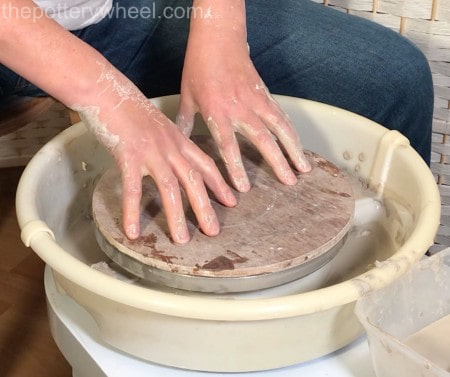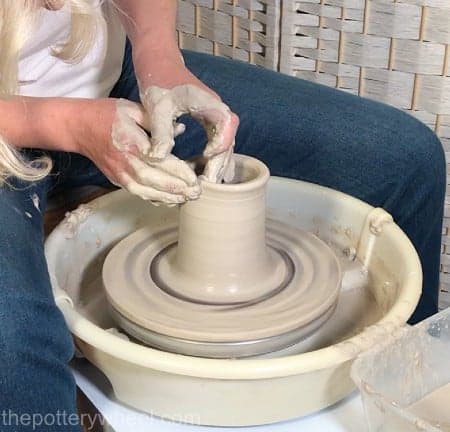 BatMates are 12 or 14 inches in diameter, so, depending on the size of your wheel head, you may have to trim it down so that it fits your wheel exactly.
Other Ways to Save Money
Having regular access to a pottery wheel is important if you want to hone your throwing skills. However, you may still be undecided about whether you want to take the plunge and buy one.
If that's the case, there are still other ways that you can get your hands on a pottery wheel, without shelling out for a new one.
Here are 3 other options:
Option 1: Consider buying a used pottery wheel
Wheels do come up now and again on sites like eBay, Craigslist, and Facebook Market Place. Be aware that if they are in decent condition and fairly priced, they do tend to sell quickly. If you are thinking of going down this route, check out my top 14 tips on buying a used pottery wheel.
Option 2: Borrow or rent a wheel
You might be surprised to find how many pottery wheels are lurking around in your local area. There are usually plenty of places where you can hire a wheel by the hour to practice.
An example would be a local pottery studio where they hold classes. Often they will let students and locals visit the studio and use their wheels for a small fee.
I've written a guide on how to find a local pottery wheel to hire. Why not check that out and see if anyone near you has a wheel you can use?
Option 3: Make a pottery wheel
If you're reading this article, it's probably because want to buy a pottery wheel. So, the idea of making a pottery wheel may not seem relevant to you. However, you may be interested to know that making a pottery wheel really doesn't have to be that complicated.
If you are someone who likes to make things and enjoys a DIY project, this might be the best way to rein in the cost. You can check out this article on The Ceramic School's website on how to make a pottery wheel for some inspiration.
Final Thoughts
If you want to start making pottery, and don't want to break the bank, buying a cheap pottery wheel is a great option. My experience of starting out with a budget wheel was very positive. It allowed me to practice and develop my skills regularly, without the risk of huge expense. If you are thinking about taking the plunge I would say that it's absolutely worth it.