Affiliate Disclaimer
This site contains affiliate links. I may receive a commission from Amazon or other third parties if you make a purchase after clicking on of these links.
Learning how to use a pottery wheel takes practice. Perhaps you are new to pottery, or maybe you want to practice your wheel throwing. Either way, you are probably wondering how to find a pottery wheel near me.
It's also possible that you would like to try pottery as a hobby. But you want to practice before you commit to buying a pottery wheel. That's a sensible approach. Even an inexpensive pottery wheel is an investment, and you may want to try before you buy.
Luckily, pottery as a skill and hobby is growing in popularity. As a result, there's plenty of places that you can find a pottery wheel nearby to learn and practice on.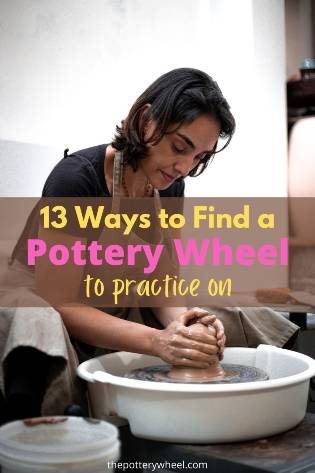 Simple Ways to Find a Pottery Wheel Nearby
Here are 13 top suggestions on where you might be able to practice your throwing skills….
1) Pottery Studio
Chances are there is a pottery studio reasonably close to you, particularly if you live in a town or city. There has been an explosion of interest in pottery recently. And often pottery studios are set up by potters keen to share their knowledge and facilities.
Most often, a pottery studio will run classes on wheel throwing and hand-building with clay. The beauty of approaching a pottery studio is that you can take a class there. Once your course has come to an end, the studio will often allow you to use their equipment in the future.
There is usually a small fee for hiring their pottery wheel on site. However, the fee is a small price to pay for the convenience of having access to a pottery wheel locally.
2) Pottery Café
A pottery café is a little different from a pottery studio. Normally a studio will hold classes and be run by experienced potters. Whereas a pottery café is a place to socialize, snack, chat and exercise your creative streak.
Often a pottery café will have a place to eat, but also a supply of ready-made bisqueware. The idea is that you visit, choose a piece of bisque ware, and paint it with underglaze. The café patron will then fire it for you and you can collect it at a later date. This is called 'paint your own pottery'.
However, some pottery cafés also have pottery wheels that you can learn on too. So, if you have a pottery café in your area, it's worth asking them what equipment they have on-site.
3) A Local Arts or Ceramics Gallery
Drop into your local art gallery and see if they have a pottery wheel to hire. They may have a studio attached to the gallery. If they don't have their own studio, they will be in touch with most of the local artists and potters.
An art gallery will have their finger on the pulse with potters who work nearby. They may well be able to advise where you could use or hire a pottery wheel nearby.
4) Ceramics Shop / Art Supplier
Finding a good local ceramic shop or art supplier these days is like finding gold. A lot of ceramic supplies are sold online these days. So, it's somewhat of a rarity to find a supplier who actually has a store that you can browse around.
However, the potter's shops that do still exist these days are a wealth of information. If you have a local ceramic shop nearby, I recommend that you get to know them.
It's very possible that they have a pottery wheel that you could use or hire. If they don't have one, they would probably know of someone that does.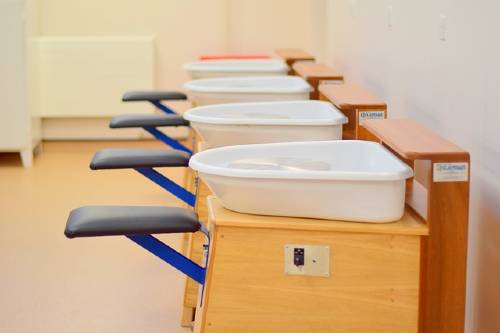 5) Local Community Center
Check out your local community center. These places will often have arts and crafts facilities. And you might be lucky enough to find they have a pottery wheel.
A local community center is often a hub of creative work made by local residents. They may have regular stalls where they sell their work or services. Visit any markets that are held at the center and see if any potters sell their ware at the market.
Have a chat with them and ask them where they make their pottery. They may have a pottery wheel you could use.
Alternatively, community centers often run low-cost classes. These classes range from martial arts to macrame. Look into whether they run pottery classes. If they do, then chances are they will have at least one pottery wheel. Contact the teacher or the community center caretaker and see if you can practice on their pottery wheel.
On the subject of classes, it's also a good idea to check out any local schools to see what facilities they have….
6) Schools
Schools are a great place to find a pottery wheel nearby. It's always good to take a pottery class. Even experienced potters can benefit from a refresher course.
Check out your local colleges and see if they run pottery wheel throwing classes. If you take a class the school may allow you to carry on using the facilities after the course ends.
This will likely be for a small fee. However, it would be worth it for the convenience of having access to a pottery wheel. And also, they would very possibly have a kiln where you can fire your work.
It makes sense to approach local art schools. But don't forget to check out any local secondary schools or colleges of further education. These places often have pottery facilities. They may or may not run courses.
Either way, find out who runs the art department and see if they have a pottery wheel you could use. Local schools are often keen to generate a little extra revenue. And for a small feel may let you practice outside school hours.
7) Find a Local Potter
Keep your eyes peeled for any local potters in your area. Are there any local exhibitions with potters exhibiting their work? Is anyone having a yard sale selling their pottery?
If you meet a local potter, have a chat with them learning to use a pottery wheel. They will most likely have a good network of contacts in the pottery field. As such, they may be able to help you find a pottery wheel nearby.
Alternatively, they may be happy for you to use their pottery wheel. They may even teach people how to throw.
As the old saying goes, 'if you don't ask you don't get'. So, when you are out and about, put out some feelers and see what turns up. Networking can be a handy way to find what you need locally, so put your feelers out!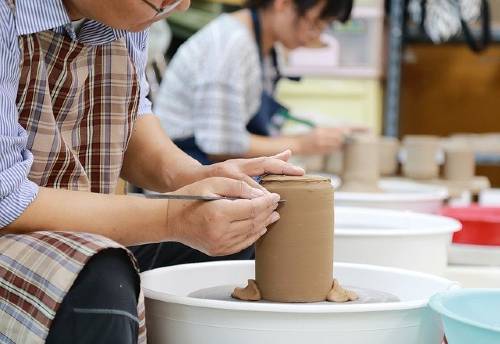 8) Social Media
Of course, the modern version of networking is using social media. And another way to find a pottery wheel nearby is to post something in a local group on a social media platform (whichever one you like to use!).
Local community groups on something like Facebook are a great place to get recommendations. Why not let the community know that you are looking for a pottery wheel, and see what suggestions you get?
9) A Pottery Cooperative
You may be lucky and find that there is a local pottery cooperative. These organizations are generally run by local potters, who share their studio space and sometimes facilities with each other.
They are often keen to support the community too and appreciate any kind of financial support they can get. So, a local pottery cooperative would be a good place to find a pottery wheel nearby.
10) Local Pottery Organisations
It's possible that there is a collective of local potters that have formed a pottery organization. These organizations may not have a physical studio space that they meet in. However, they are a great place to network.
Joining a local pottery organization will put you in contact with lots of other like-minded folks. And potters are often very keen to help support others who want to learn the ropes.
Make contact with the other members of the organization and explain that you are starting out. They will almost certainly be able to help. Or they will have some suggestions about where you could find a pottery wheel nearby.
11) Pottery Wheel Hire
Pottery wheels are often available to hire for one-off events like parties, or corporate bonding exercises. But you can also hire a pottery wheel for a longer period of time too. It can be great to hire a pottery wheel and see what it feels like to own your own wheel.
If you want to have a wheel at home, you will need to have a little bit of space to store it. Plus, you need to factor in the dust factor too! Making pottery does create a bit of mess and dust. But it is well worth the effort.
Using a pottery wheel is like any other kind of motor skill. It takes time and practice to perfect. If you hire a pottery wheel, you will be able to practice every day, time permitting. You will notice your skill level move on quickly if you have access to a pottery wheel every day.
12) Buying a Pottery Wheel for Beginners
Pottery wheels range in price from $200 to $2000. Check out this post on the cost of pottery wheels. Wheels at the higher price bracket are great if you are a) an experienced potter and you need a high-end piece of equipment. Or, b) if you have a lot of money to spare! But if, you are starting out, buying an inexpensive pottery wheel can be a good option.
This is the kind of pottery wheel that I started out with. I discovered a love of using the wheel on a piece of equipment like this.
One drawback of a less expensive wheel is that it is likely to have less torque than a pricier model. Torque affects how much clay the wheel is able to cope with before it slows down.
However, as a beginner, you are very unlikely to be using the wheel for large quantities of clay. Most beginners start off making mugs, bowls, and vases. And a beginner's wheel like this one will manage just fine with smaller pieces like this.
13) Clubbing Together and Buying a Pottery Wheel
Perhaps you have done a course and you are already sold on using a pottery wheel. If that's the case, you may not want to buy a starter wheel like the one above. You may want something that you are unlikely to outgrow.
However, more advanced wheels cost more money! If you aren't able to shell out for a more expensive wheel, you may be able to get together with someone else and invest together. You could even start your own mini pottery cooperative and share the wheel between a group of you.
Final Thoughts
If you have wondered how to find a pottery wheel near me, there are plenty of options. I'd say the key to finding a local pottery wheel is networking and speaking with local potters. Potters are generally very keen to help people who are just entering the field. I have found them to be very generous with their time and knowledge. Once you start putting out some feelers, you will find what you are looking for. Once you have access to a wheel the rest is up to you. All you need to do then is practice!