I had been thinking about running some pottery classes. And one of the questions on my mind was how to provide a wheelchair accessible pottery wheel. So, I started looking into it and this is what I found out.
You can buy a wheel that is specifically designed to be wheelchair accessible, however, these are costly. Another option is to use a tabletop wheel, on a wheelchair-accessible table. The other possibility is to adapt a regular wheel and integrate this into a wheel-accessible table or frame.
I wanted to check out all these options thoroughly before deciding on a wheelchair-accessible pottery wheel. These are the things I took into consideration…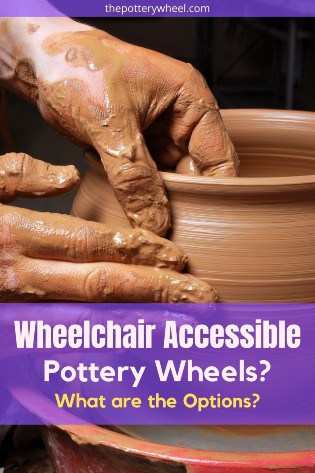 Wheel Chair Accessible Pottery Wheels
The first and most obvious option was to buy a pottery wheel that was specifically designed for wheelchair users. The only example that I could find of a bespoke pottery wheel was the Brent Accessible Pottery wheel. Also known as the Model # 16 Adaptive Wheel.
The Brent Accessible Pottery Wheel
Brent highlight that the frame on this wheelchair-accessible pottery wheel was designed in consultation with rehabilitation and therapy specialists. It is designed to be adjusted to suit the individual needs of the person using it.
The wheel head is positioned on a plinth that can be moved up and down. The lowest position is 21 inches from the ground and the highest position is 35 inches.
Because the height can be adjusted, the wheel can be used in the sitting or standing position. It can also accommodate either a wheelchair or a pottery chair. So, it's pretty flexible.
It also has two adjustable armrests on either side of the frame. These can be raised up and down, and the orientation of the rests can be adjusted too. All in all, the frame is designed for maximum flexibility.
Despite being adjustable, the frame is strong and sturdy. The frame is made of steel and can be moved about on casters.
However, once in place, rubber feet are used to raise the casters off the ground. This stops the wheel from moving about whilst it's being used. So, it's movable but solid and steady. It has a 14" cast aluminum wheel head.
Functionality
The speed of this wheel varies from 0-240rmp.  And it is powerful having 1/2HP.  The combination of speed and power is reflected in this pottery wheels centering capacity.  The spec on this wheelchair accessible pottery wheel states that it can handle up to 150lb of clay.  That is A LOT of clay.  Considering that a coffee mug will use only 14oz of clay, 150 lb of clay is massive (source). 
The on/off switch is mounted on a panel next to the wheel head for easy access. There is also a forward and reverse switch on this panel.
Not all pottery wheels have a reverse function. But it is a handy function, especially if the wheel is going to be used by lots of different people. Right-handed potters, tend to prefer the wheel head to rotate counter-clockwise. Whilst left-handers usually find it easier to have it rotate clockwise.
There is no hard and fast rule about wheel head direction, but most potters will have a preference.  So, it's good to be able to adjust, particularly in a classroom situation.    
This wheelchair accessible pottery wheel has a dual purpose hand lever and foot controller. It can be positioned on the floor or locked into place on a tray next to the wheel head for hand operation.
Brent Wheelchair Accessible Pottery Wheel – View on Blick Arts
Overall Impressions
This pottery wheel would seem like the perfect option for a person who uses a wheelchair. The frame is flexible, sturdy and the pottery wheel has a lot of power.
However, it does come at a hefty price tag. The average cost of the Brent accessible pottery wheel is around $2800. So, it is not cheap. If you're buying the wheel for a school or center and you have funding, the price might not be an issue. But for many, it's a considerable investment of money.
Another factor to consider is that the Brent accessible wheel might not suit everyone. I have read reviews from users saying that they found the wheel head too high. And that it can feel hard to center and pull up pots on this wheel for that reason.
Therefore, it is worth looking at the other options available. One of the other possibilities is to buy a table top pottery wheel. So, let's take a look at these now….
Table Top Pottery Wheel for Wheel Chair Users
The two most popular and reputable table top pottery wheels are the Speedball Artista and the Shimpo Aspire. As the name suggests, table top pottery wheels can be positioned on whatever table you like to work from. Provided the table is steady and level, then it is most likely a suitable surface.
For that reason, table top pottery wheels are a good option for wheelchair users. You can simply put them on a wheelchair accessible table and you are good to go.
Because I wanted to buy a table top pottery wheel, I researched the Shimpo Aspire and Speedball Artista. You can read my review of each of these pottery wheels here. I actually found that there is not much difference between the two of these pottery wheels.
Table Top Pottery Wheels – The Cons
The Speedball Artista and Shimpo Aspire can both be operated by hand or foot. This is great, as you can choose which method of control you prefer.
However, you can't simply switch between either option. Both wheels involve plugging the foot pedal in. Once the foot pedal is plugged in it overrides the hand lever function. So, you can't just toggle between the two.
Another drawback with the Speedball Artista and the Shimpo Aspire is that neither has a reverse function. When you buy your wheel, you specify if you want a wheel that turns clockwise or counterclockwise. So, once you've made your choice, that is the option you have to commit yourself to.
Table Top Pottery Wheels – The Pros
However, my feeling is that these two cons are not too great. The good news is that you do have the option to use either a foot pedal or a hand lever. Even if you have to plug and unplug the foot pedal to switch between the two.
The other advantage of both of these pottery wheels is that they are portable and compact. You can move them about and use them just about anywhere you have a power supply.
And in spite of being lightweight and portable, they are both very sturdy when they are placed on a work-top.
One of the big benefits of buying a tabletop pottery wheel is the price tag.  A tabletop pottery wheel can be just as accessible as the adjustable Brent wheel.  However, the Shimpo Aspire and the Speedball Artista both cost in the region of $500. 
The cost varies a little depending on whether you want a foot pedal or not. But essentially, the tabletop pottery wheel is a much more economical option.
Both these wheels are a good option as a wheelchair-accessible pottery wheels. In the end, I decided my preference lay with the Shimpo Aspire. But both of these wheels have a lot going for them.
Comparing the Options
| | |
| --- | --- |
| Brand | Model # 16 Brent |
| Wheelhead | 14″ |
| Power | 1/2 hp |
| Speed (rpm) | 0-240 rpm |
| Centering Capacity | 150lb |
| Reverse | Yes |
| Hand/Foot Control | Both |
| Price | $2800 |
| | |
| --- | --- |
| Brand | Speedball Artista |
| Wheelhead | 11″ |
| Power | 1/3hp |
| Speed (rpm) | 0-220 rpm |
| Centering Capacity | 25lb |
| Reverse | No |
| Hand/foot Control | Yes |
| Price | $460-$564 |
| | |
| --- | --- |
| Brand | Shimpo Aspire |
| Wheelhead | 7″ |
| Power | 1/3 hp |
| Speed (rpm) | 0-230 rpm |
| Centering Capacity | 20lb |
| Reverse | No |
| Hand/foot Control | Yes |
| Price | $480-$544 |
Adapting your Own Wheel Chair Accessible Pottery Wheel
The other option is to adapt a non-disabled pottery wheel to suit wheelchair users. Pottery wheels are relatively simple constructions. The wheel head is really just a metal disk that spins around on a shaft. The shaft is turned by a motor.
It is possible to make your own table/frame for the pottery wheel, which is wheelchair accessible. Then the shaft, wheel head, and motor are fitted to the accessible frame that you have built.
One way to do this is to drill a hole in the table you've built. The shaft passes through the hole, the motor sits underneath the table, and the wheel head rotates above the table top.
This is a very inexpensive way of making a wheelchair accessible pottery wheel. It's a good option if you have a spare pottery wheel that you are no longer using. And if you have some carpentry or welding skills.
Final Thoughts
Making pottery is quite a physical activity, there is a lot of leaning, pushing, and pulling.  Using a pottery wheel that is not at the right height can over time lead to back problems and wrist strain. 
So, it's important to factor this in when deciding which wheelchair accessible pottery wheel to use. I hope that the information above has given you some ideas about which wheel might suit your needs best.