Traditional Polish pottery is one of the oldest forms of folk art as it dates back thousands of years. It originates from a small region called Silesia, which is within the Polish village of Boleslawiec. For this reason, polish pottery is also referred to as Boleslawiec pottery.
The beauty and functionality of Polish pottery make it a favorite among art collectors all over the world. The pottery is marked by cobalt, green and red paints against the natural cream of clay. It boasts beautiful hand-finish and decorative patterns and designs. It goes without saying that Polish pottery is among the finest pottery produced in the world. Read on to learn more about this fine type of artistry…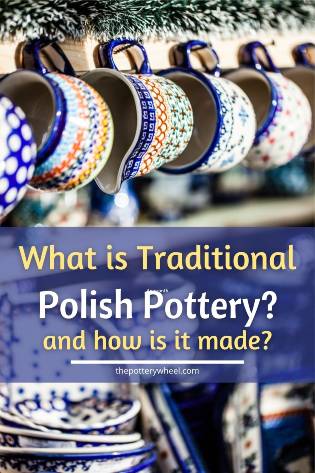 The History of Traditional Polish Pottery
The making of Traditional Polish Pottery dates back centuries and can be traced to at least 6000 B.C in the Polish village of Boleslawiec. Polish pottery began with farmers keeping themselves busy during the cold season when they could not do farming activities. As it happens, Boleslawiec has top-tier clay, which produces pottery of excellent quality.
Soon, the practice evolved into a commercial activity, with factories being put up to produce the pottery on a large scale. The pioneering pottery products were mostly stoneware vessels like tankards and jugs.
They were hand-made and hand-decorated, which is a practice that makes Polish pottery stand out. The early potters would decorate the vessels with raised patterns, which they would then cover with brown slip glaze tin, pewter, and silver tops.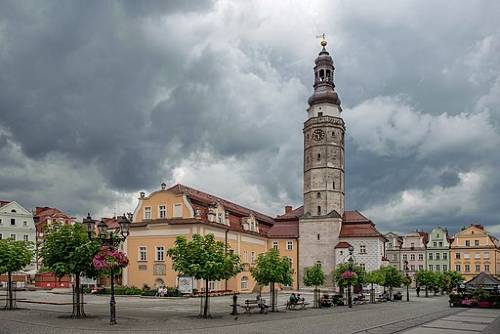 Polish Pottery from the 18th Century Onwards
Over time, potters continued to develop the artistry of Polish Pottery to improve its creation and outcome. The 18th century, specifically, saw a lot of innovation in the designs and methods of creating Polish pottery.
This was a time when local potters and professionals brought their heads together to brainstorm. The result was the production of new products such as tea and coffee pots and new techniques of glazing the products.
The 19th century was a remarkable period in the history of traditional Polish pottery, thanks to Johann Gottlieb Altman. Altman was the brains behind developing a safe, functional, and cheap glazing method: the feldspar-based clear glaze.
It replaced the pricier brown glazing method. He also introduced the use of stoneware, which is more attractive and durable compared to earthenware.
Polish pottery is still made today, hand-made and hand-painted by the potters. While there is a touch of modernity, contemporary potters still incorporate techniques and designs used in making traditional Polish pottery. Not only is Polish pottery beautiful, but it is also durable and functional.
How Traditional Polish Pottery is Made
Traditional Polish pottery is made with rich clay that is found in Boleslawiec. The clay is formed at high temperatures as it is baked at 2246 degrees Fahrenheit, making it hard, durable, and non-porous. After the firing process, artisans manually work on the pieces, hand-stamping and hand-painting them.
The designs applied to the pieces are acquired from sea sponges that have been hand-cut by the artists. As soon as the paint dries, a glaze is applied to the piece just before it is fired.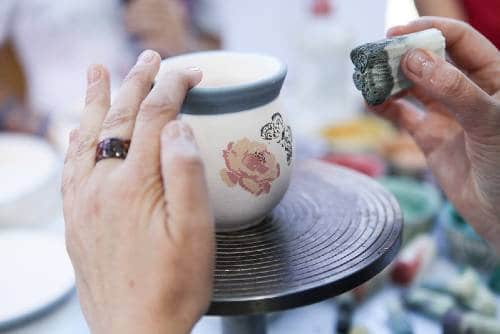 While the glaze is transparent, it protects the vessel from wear and seals the piece to make it food safe and functional. Thus, the final piece is a beautiful vessel that is suitable for everyday use.
If you'd like to know more about glazing, you can check out this article I've written all about the glazing process here. It will give you a good understanding of what the process involves.
How Traditional Polish Pottery is Decorated
As is the norm with polish pottery, the pieces are hand-decorated by the artisans. The artists use paint to make various patterns and designs. Painting was especially common in the Boleslawiec region, where the art originated from.
Artisans use a unique style of painting known as the punch technique. The punch technique involves applying small motifs that have been soaked in paint on the surface of the piece. To apply different patterns to a piece, different shapes and sizes of motifs are used. Therefore, there can easily be up to a thousand different designs of motifs on a single piece.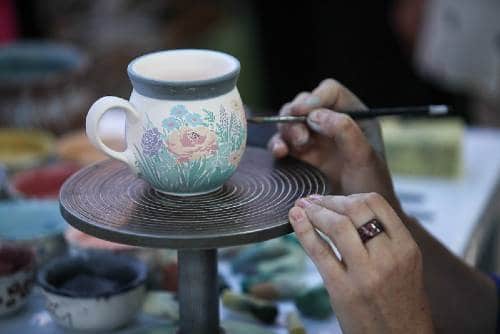 Artisans would use colors that have a particular significance in the Polish custom. The colors that were commonly used were royal blue, cobalt, red, and green. The colors were also subject to an individual artisan's tastes.
If you would like to know even more about the distinctive markings of Boleslawiec pottery, take a look at my article on that subject here.
Unikat Polish Pottery
Decorations on Polish Pottery greatly reflect the styles and patterns developed by particular artisans, such that it is possible to tell who has done it by the designs.
These designs, which are labeled as 'unique' or 'unikat' contain signatures of the artist behind them. UNIKAT pieces tend to be pricey, and their cost is subject to the time taken on them, the attention to detail, and the quality of the products.
Some of the most popular decorations for polish pottery include the peacock pattern, emerald mosaic, and crimson bells. The most iconic pattern of Polish pottery is the peacock's eye, otherwise known as Pfauenauge.
Potters used the peacock pattern to attract the favor and attention of royals and nobles, along with the royal blue color, which became the primary color for Polish pottery. As per the polish culture, a male peacock is a symbol of royalty and wealth. Thus, potters would base their design motifs on the patterns found on male peacocks.
Key Characters in the Development Polish Pottery
The most influential figure in the history of Polish Pottery is Johann Gottlieb Altmann, a polish potter of the 19th century. He completely changed the trajectory of Polish Pottery, and for the better. He introduced the casting method, which replaced the traditional wheel techniques. Casting vessels proved to be more effective and have been used by potters ever since.
Altmann also introduced glaze made with feldspar to replace brown glaze. Not only is feldspar cheaper, but it also looks so much better and gives a more beautiful finishing. More importantly, it is lead and calcium-free, making it relatively harmless to the health of potters.
Additionally, Altmann developed a different clay body to use in making Polish pottery, stoneware. It is more refined and more durable compared to earthenware, which had been used until then. Since Altmann made the discovery, potters have since used stoneware to make Polish Pottery.
The work and designs of Johann Gottlieb Altmann gained international recognition and accolade and sparked interest in Polish pottery. His classic technique was an inspiration to modern Polish pottery.
Modern Polish Pottery
Boleslawiec pottery is still produced today, and its popularity has not waned one bit. It is collected and used in the United States and other countries all over the world. The styles and techniques used today are borrowed from the classic approach developed in the 19th century by Johann Gottlieb Altmann.
Modern Polish pottery is still built upon the traditional craft. Contemporary artisans instill individuality in the craft, hand-making and hand-painting them just as their predecessors did. They also borrow from the traditional decoration styles- emerald mosaic, crimson bells, and floral peacock.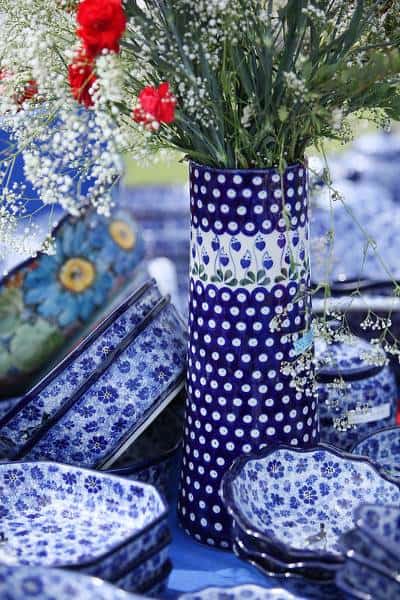 Just like back in the day, potters today use local stoneware, which they fire to extreme temperatures. The pieces are then stamped with details before getting coated in lead-free glaze.
The result is pottery that is both beautiful and functional. The durability of the materials enables the dishes to withstand the heat of microwaves, ovens, and the coolness of a freezer.
There are several factories that produce polish pottery today, with the biggest being the Ceramika Artystyczna. Note that the market is infested with cheap and inauthentic Polish pottery today, so it is important to research a brand before buying to avoid fake purchases.
Normally, authentic pieces have two stamps: one contains the details of the maker and another stamp that reads, "Made in Poland." If you want to know more about how to identify Polish pottery, have a look at my article on that subject here.
Traditional Polish Pottery Versus UNIKAT
In Polish Pottery, there are two broad categories: traditional and UNIKAT. All Polish Pottery is hand-made and, therefore, unique in its own way. However, UNIKAT pieces take more time and expertise to create, exhibiting a higher degree of originality. 'UNIKAT' directly translates to unique.
Artisans who create UNIKAT pieces are extremely skilled and experienced. They reach this level of expertise for having worked for so many years that they can create a piece from the beginning to the end. These artisans give their all at every stage of the way, and as a result, UNIKAT pieces take longer to finish and are also more detailed than traditional pottery.
All Polish Pottery pieces have factory stamps with the inscription "Hand-made in Poland" at the bottom of the pieces. On top of the factory stamps, UNIKAT pieces are also signed by individual artists and are always labeled 'UNIKAT.' Comparatively, UNIKAT pieces are costlier than traditional pieces.
To know exactly what makes UNIKAT pottery so unique, take a look at my article on UNIKAT.
What Makes Polish Pottery So Special?
Polish pottery is special for several reasons. For starters, it is among the finest pottery ever produced in the world. It is hand-made by skilled potters, complete with a beautiful hand-finish. Thus, it is aesthetic and can be displayed in spaces for decorative purposes.
More importantly, Polish pottery is made with durable, excellent quality, high-fired and non-porous stoneware. Dinnerware can withstand the heat of microwaves and ovens as well as the coolness of freezers without getting ruined. Therefore, it is as practicable just as it is beautiful. Even with frequent use, polish pottery lasts for a long time, provided it is handled with care.
Additionally, polish pottery is hand-made and hand-decorated to create very unique pieces. This means that no one piece is exactly the same as the other, which is very special. Owning a UNIKAT piece is even more special as they are relatively more original and exquisite.
Final Thoughts
Traditional Polish pottery is a type of pottery that originated in the Polish town of Boleslawiec. It is also referred to as Boleslawiec pottery. It is set aside by distinct patterns such as peacock-inspired designs and colors like royal blue and hues of green and red.
Both traditional and modern Polish pottery is hand-made and hand-decorated by experienced and highly skilled potters. They are made with white clay, which is fired at high temperatures to produce durable and non-porous pieces. One way of identifying polish pottery is that they are stamped at the bottom with the inscription, 'Hand-made in Poland.'