Affiliate Disclaimer
This site contains affiliate links. I may receive a commission from Amazon or other third parties if you make a purchase after clicking on of these links.
Boleslawiec pottery marks are primarily used to identify the quality, company, and country of origin. They are usually located under the ceramics base providing a reliable means to tell authentic antique pieces.
However, some marks are forgeries and you can't easily distinguish them. This is because a good amount of time and effort is spent to make them look authentic. Before purchasing or selling any Boleslawiec items, conduct due diligence in order to distinguish a fake from the real thing.
Types of Boleslawiec Pottery Marks
Here are some of the different types of Boleslawiec pottery marks to look out for…
Traditional Marks
These are simplistic hand-painted designs usually found in most households. Don't get me wrong; they are still high-quality ceramics made by blending preexisting patterns to create new exquisite pieces.
They usually contain the following marks;
Manufacturer's logo
'Hand Made in Poland' sign
Pattern Number
Some companies, such as Ceramika Artystyczna Boleslawiec, have both their logo and company name stamped at the bottom of the pottery.
Ceramica Artystyczna Boleslawiec pottery – View on Amazon
UNIKAT Marks
UNIKAT pieces are a symbol of excellence in the Polish pottery world. Only accomplished and highly skilled potters such as Bronislaw Wolanin and Anna Pasierbiewicz have their pieces labeled unique.
Unikat designs usually contain the following marks;
Manufacturer's Logo
'Hand Made in Poland' sign
'UNIKAT' symbol
Designing artist's Signature or Initials.
Pattern Number
UNIKAT ceramics are highly sophisticated, featuring elaborate and detailed decorative designs. The heirloom quality and limited supply make them very valuable and highly sought after by antique collectors.
Unikat Pottery By Ceramika Artystyczna – View on Amazon
If you are intrigued by UNIKAT pottery and want to know more, have a look at my article on UNIKAT here.
How Boleslawiec Pottery is Marked
Here are some of the ways that markings are applied to Boleslawiec pottery
Stamps
Stamps are the most preferred mode of marking Boleslawiec pottery. The stamps can either contain simple script or block letters, numbers, and symbols or combine them. While the stamps hold up very well after prolonged usage, they often blur.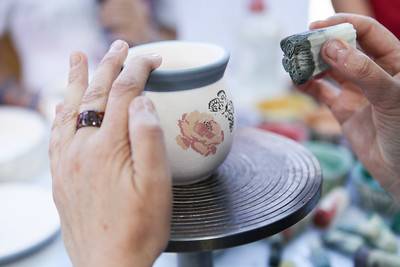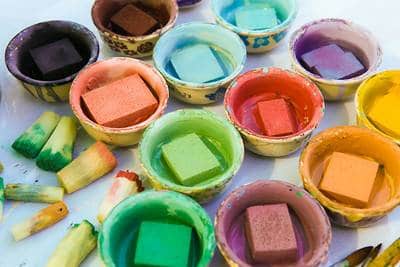 Clay Incisions
The marks are clawed into the soft clay during manufacture. They are the most durable form of marking Boleslawiec pottery if done correctly. However, there is a risk of obliterating the marks during the firing or glazing processes.
Painting
Boleslawiec pottery is hand-painted. The artisans employ distinctive color and painting patterns that double up as markers. This method provides reliable hints about a piece's origin and artist even when the pottery has no visible markings at the bottom.
Polish pottery designs have a very distinctive look. If you'd like to know more about how to use these design features to identify your Boleslawiec pottery, have a look at this article that I wrote as well.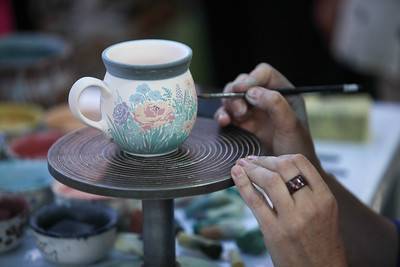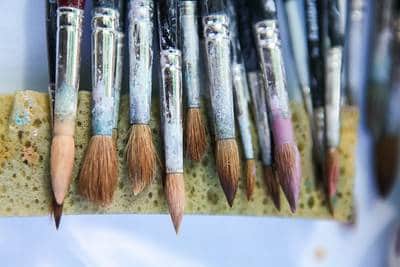 Other Types of Marks
Here are some other identifying marks that are applied to Boleslawiec pottery at the point of production. To know more about how traditional Polish pottery is made, take a look at my other article here.
Company Marks
The Boleslawiec region has multiple pottery companies, with each company having its unique way of distinguishing its products. They include wordmarks, logomarks, and emblems. As the companies grow and evolve, they might change these hallmarks from time to time to ward off fakes or signify a particular period.
A good example is the renowned Zaklady Ceramiczne Boleslawiec or the Boleslawiec Ceramic Plants Ltd. Being the oldest polish pottery manufacturer; you might find its products with either of these two sets of emblems.
Quality Marks
A ceramic marked Quality 1 (QTY 1 or GAT 1) is of the highest quality with no imperfections. On the other hand, Quality 2 pottery is structurally sound but may have certain shortcomings. More often than not, it's the paint job.
You SHOULD NOT use items below GAT 2 for eating or cooking. The craftsmanship might be flimsy, and the pottery is not safe to use in a microwave, oven, or dishwasher. Purchasing items below Quality 2 standards isn't worth it unless you want to use them as decorative pieces around your home.
Stickers
Polish pottery has different colored stickers to signify their quality levels. Blue and white stickers are used for authentic Quality 1 ceramics. Blue stickers are for pottery purchased directly from the Polish factory stores, while the white stickers are for pottery ordered for commercial production. Other color stickers are usually from Quality 2 and below.
In a bid to comply with the FDA-2010-D-0571 policy, pottery manufacturers are adopting warning stickers on ornamental and decorative pottery pieces. The stickers serve as preventive measures against accidental usage of these ceramics to cook, serve or store food items.
What is a Pattern Number?
Boleslawiec pottery includes a wide range of products ranging from tableware, kitchenware, and ornaments to decorative pieces. Ordinarily, a pattern number is developed to categorize products according to design name, origin, and date of manufacture. Some establishments give pattern numbers according to the Unikat designing artists.
A pattern number involves using numbers, letters, or a combination of both. Depending on the manufacturer or outlet, the letters can be used as prefixes or suffixes. A good example is the Polish Pottery Outlet, one of the largest Boleslawiec pottery online outlets.
It has unique product pattern numbers depending on the manufacturer and the design. Aztec Blues from Ceramika Artystyczna pattern number is U4428 while Manufaktura has a Billowy Blossoms pattern codded as 14KG.
While you can use pattern numbers to trace the identity of pottery, they are not always easy to read. There are no standard pattern numbers/ guidelines for Boleslawiec pottery as they vary from one manufacturer or outlet to another.
Furthermore, some pattern numbers have been discontinued, which may make it hard to trace them back to the original artisan or company.
Is Unmarked Boleslawiec Pottery Valuable?
It depends if the authenticity of the pottery is verifiable and you can correctly identify the time frame. Extensive tests will be carried out on the piece to ascertain its worth which often involves consultations with the manufacturer. Medieval, limited series and Unikat items are the most valuable.
The condition of the pottery is also an essential factor in determining its value. Always handle and clean the ceramics with care to avoid structural damage. No matter how expertly done a repair or restoration is, it automatically relegates the item from Quality 1. It diminishes the value of the ceramic and will be overlooked by most antique collectors.
Final Thoughts
Boleslawiec pottery is very popular for its beautiful intricate designs and outstanding durability. It also provides a vibrant ambiance, whether it is in your kitchen or outdoor garden. For ceramic collectors, the pottery fetches a good return on investment.
Let's face it; we live in an evolving market infested with unscrupulous individuals trying to make easy money. Cases of pottery reproduction and imitations are on the rise, which requires you to pay keen attention to Boleslawiec pottery marks to avoid inauthentic purchases.