Affiliate Disclaimer
This site contains affiliate links. I may receive a commission from Amazon or other third parties if you make a purchase after clicking on of these links.
Rookwood pottery is one of the most iconic brands of the American Art pottery movement. It is loved by many, but how much is Rookwood Pottery worth? Perhaps you want to buy some Rookwood, or maybe you have some pieces that you want to sell. Either way, it's essential to have an idea of the market value.
The value of Rookwood Pottery depends on the artist who made it, the production techniques and glaze used, and its general condition. Prices range from around $200 upwards for mold-made glazed production ware, to around $20,000 for rare pieces by renowned artists. The highest price paid for a piece of Rookwood was $305,000.
The founder of Rookwood Pottery was Maria Longworth Nichols Storer. One of her aims was to make beautiful pottery affordable for everyone. It's interesting to look at the price of Rookwood today and consider whether that ambition is still being met.
Factors that Affect How Much Rookwood Pottery is Worth
Here are some key features that will affect the value of your Rookwood Pottery.
Factor 1: How Was the Piece Made?
Rookwood Pottery was founded in Cincinnati, in 1880. Right from the beginning, Rookwood used two main production methods. Some pieces were made on the potter's wheel, known as wheel-thrown pottery. Other pieces were made from plaster molds.
Wheel-thrown pottery, by its nature, produces one-off, one-of-a-kind pieces. By contrast, plaster molds can be used multiple times to make more than one impression of a piece.
For that reason, as a general rule, pieces made from a mold are less valuable than one-off wheel-thrown pieces. You can read more about how Rookwood Pottery was made here.
However, this is not the only factor in the production process that affects the price of a piece. Another consideration is the way that a pot was decorated. So, let's take a look at the impact of decoration on value now…
Factor 2: How Was the Piece Decorated?
If your Rookwood Pottery was made in a mold, it may have lovely patterns, textures and designs. However, if the design was carved by hand, known as incising, this will add value to the piece.
Rookwood Pottery was known for the distinctive pottery glazes that it developed. Many of their pieces were decorated by the application of a particular line of glaze.
However, Rookwood was also renowned for the application of painted decoration. They hired skilled artists and painters as pottery decorators. Once the decoration had been painted, the design was sealed with the application of a pottery glaze on top.
An iconic Rookwood glaze is called Standard Glaze. This was a dark, but transparent glaze that was used on top of painted decoration. The vase below, decorated by Matthew Daly, was glazed with Standard Glaze, and sold in October 2022 for $1000.
Another important Rookwood glaze was their Vellum glaze. This was also applied over painted decoration, giving the design a hazy, muted, impressionistic look. The following Vellum glazed vase by Edward Diers was priced at $2,295.
Generally, hand-painted pieces will attract a higher price than items that have been decorated using glaze alone.
For example, compare the prices achieved by the two hand-painted pieces above, with the price of the Production Ware glazed piece below.
This glazed piece is beautiful and it is valued at $295, its price is outranked by the hand-decorated pieces above.
Factor 3: Who Decorated It?
Over the years Rookwood has hired many pottery decorators. All of the decorators were highly talented, but some of them were prolific and highly acclaimed. The artist that decorated the pot, will dictate the price.
Rookwood Pottery that Has Sold at High Prices
To date, the highest price achieved for a piece of Rookwood Pottery at auction was sold in 2004 by Cincinnati Art Galleries for $305,000. The following piece is now at the Cincinnati Art Museum.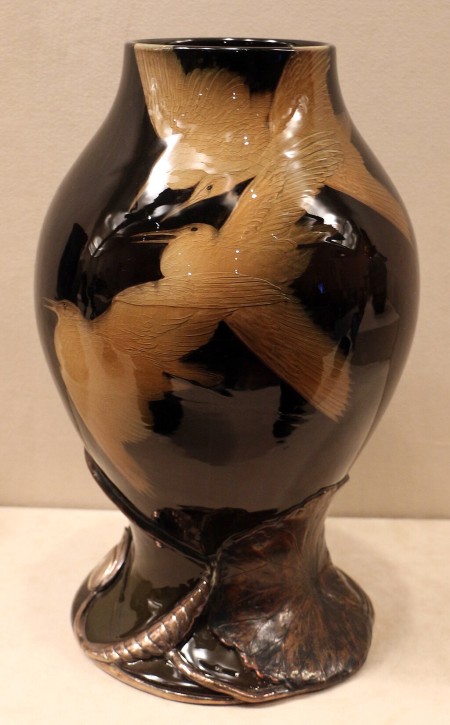 This piece was painted by artist Kitaro Shirayamandani (also sometimes spelled Kataro). It is dated 1900 and it is 14.5 inches tall.
The piece is decorated with the Rookwood Black Iris glaze. It's a ceramic vase, mounted on a metal base that has been electroplated with silver and copper.
Another very well-known Rookwood artist is Matthew Daly, whose pieces can also command a high price. Here is an example of a piece painted by Matthew Daly:
In 2005, another vase painted by Matt Daly in 1898 sold for $51,000. It was a portrait of Chief Joseph and glazed with Rookwood standard glaze (source). Many pieces painted by Rookwood artists will achieve high prices. Here are some other notable artists whose work was sold at the higher end of the price spectrum.
Frederick Rothenbusch
Rothenbusch was a Cincinnati artist who trained at the Cincinnati Art Academy. He worked at Rookwood Pottery between 1896 and 1931. His work often consisted of landscapes, glazed with Rookwood Vellum glaze. In 2018, one of his 16" Vellum glaze pieces sold on eBay for $195,000 (source).
Having said that, Fred Rothenbusch decorated Rookwood can also be found for prices of around $2,000. For example, this Rothenbusch vase is valued at $1,995.
A.R. Valentien
Valentien was also a native Cincinnati artist and illustrator. He started working at Rookwood at the age of 19. Initially, his designs focussed on capturing a Japanese style. However, he was a botanical illustrator and over time his pieces were often intricate floral and natural designs.
His Rookwood pieces are considered to be very collectible. In 2010, one of his pieces dated 1900 sold for $24,000. It was glazed with the famous Rookwood Tiger Eye glaze and had been entered in the Louisiana Purchase Exposition in 1904, where it won a gold medal (source).
Sara Sax
Sara Sax is another notable Rookwood artist, whose pieces sell at the higher end of the spectrum. She was a decorator at Rookwood for 35 years and is considered to be one of their best decorators. Sax was also very knowledgeable about glazes and is known for her use of the Rookwood French Red glaze.
In 2021, a vase by Sara Sax decorated with French Red glaze was sold for $10,625 by Toomey & Co.
Most Collectable Rookwood Pottery Artists
Including the artists that are mentioned above, here is an alphabetical list of some of the most sought-after and valuable Rookwood artists:
Matthew Daly
Henry Farny
Mary Louise McLaughlin
Maria Longworth Nichols Storer
Elizabeth Nourse
Frederick Rothenbusch
Sara Sax
Carl Schmidt
Kataro Shirayamadani
Albert Robert Valentien
Artus Van Briggle
Grace Young
Other Important Rookwood Pottery Artists
Rookwood employed hundreds of artists over the years. Here are the names of some other important and collectible Rookwood decorators.
Lenore Asbury
Fanny Auckland
Constance Baker
Elizabeth Barrett
Arthur P Conant
Sarah Coyne
Edward Diers
Lorinda Epply
Laura Anne Fry
Katherine Hickman
Robert Horsfall
Edward Hurley
Jens Jensen
Frederick Sturgis Laurence
Elizabeth Lincoln
William Purcell McDonald
Mary Madeline Nourse
Olga Geneva Reed
Amelia Browne Sprague
Sarah Alice Toohey
The artist that decorated the piece does play an important role in how much the Rookwood Pottery is worth. You can read more about how these artists signed their work and Rookwood Pottery marks in general here.
However, this is not the only deciding factor. For example, it's possible to find pieces of Rookwood pottery decorated by prominent artists for prices in the region of $2,000-3,000. So, what other factors affect how much Rookwood Pottery is worth…
Factor 4: Is the Rookwood Pottery Signed?
Not all pieces that were produced by Rookwood Pottery were signed, and this has an impact on their worth. From the beginning, Rookwood produced what they called Production Ware. These were glazed, mold-made pieces. Some of them were signed by the artists that produced and glazed them. However, many were left unsigned.
Like many companies, Rookwood struggled with the downturn in the economy after the stock market crash of 1929. One way that Rookwood survived the Great Depression and World War II was to increase the number of Production Pieces.
Items that were produced around this time, that were not individually handcrafted and hand decorated sell at lower prices today.
For example, it's not uncommon to find pieces of this kind for sale on Etsy and eBay for prices in the region of $200-500.
Factor 5: Other Distinguishing Features
A piece of ceramic ware will be worth more if it has distinguishing features that give it some additional value. Here are some possible features of note…
Historical Significance
If the piece has special historical significance it is likely to have a higher value. One good example of this is the Black Iris Glaze vase made by Shiriyamadani mentioned above. As mentioned, this vase sold for $305,000.
Part of the reason for this is that it's very likely that the work was displayed at the Paris Universal Exposition in 1900. Rookwood received the Grand Prize at the Exposition, which is the highest award given to the entrants.
The Glaze Line
Certain glaze lines produced by Rookwood are valued highly. One example is the Black Iris Glaze mentioned above. Another glaze line that commands a high price is the Tiger Eye Glaze line.
Legend has it that the Rookwood Tiger Eye Glaze was first produced by accident. However, everyone loved it, and the Rookwood glaze chemists subsequently spent many years trying to recreate it.
They did manage to reproduce it after lots of experimentation. However, it was notoriously difficult to create the desired finish. As a result, there are not many Tiger Eye glaze pieces available. And the ones that were produced command a higher price.
Factor 6: What Condition is it In?
A lot of the older Rookwood Pottery was made from earthenware clay, which is softer and more prone to being damaged than stoneware or porcelain.
As a result, antique and vintage earthenware is more vulnerable to damage. For some types of earthenware chips and nibbles in the pottery don't affect its value too much. A good example of this is Delftware.
The value of Delftware is not affected too significantly by signs of age. Also, as a general rule, minor damage to ceramic pieces often doesn't affect their value in the same way that it would devalue glassware (source).
However, collectors of Rookwood Pottery are generally less tolerant of damage to pieces. And often small chips or evidence of damage will reduce the value of a piece by about 40-50% (source).
In addition to general wear and tear affecting the value of Rookwood Pottery, deliberate adaptations can reduce the price too. For example, turning a vase into a lamp stand can reduce the value of a piece by around 40-50%.
Here is an informative video in which Stuart Whitehurst appraises a 1927 Rookwood vase made by Kataro Shiryamadani. The vase had been drilled and made into a lamp stand.
Whitehurst estimates that instead of fetching $8,000-10,000, the vase is worth around $5,000 because of the hole in the base. The chilling expression that he uses is 'You drill it, you kill it'.
Another factor that affects how much Rookwood Pottery is worth is the condition of the glaze. Crazing is a glaze defect where a fine network of hairline cracks appears in the glaze. It's seen on quite a few Rookwood pieces (source). Rookwood collectors will pay more for rarer items that are not crazed.
Where Can You Buy Rookwood Pottery?
A good starting place if you want to buy (or sell) some Rookwood Pottery, is the easily accessible platforms such as eBay or Etsy. A lot of the pieces for sale on eBay and Etsy are pieces at the lower end of the price spectrum, ranging around the few hundred dollar mark.
However, there are some rarer pieces to be found there, and sometimes pieces on an eBay auction will achieve very high prices. A good example is the Vellum glazed vase by Rothenbusch mentioned earlier on. Remarkably, this sold on eBay for $195,000.
But there are other platforms and auction houses that sell Rookwood that you can browse. Some of these include:
Toomey & Company
Bonhams
Chairish
Christie's
Cowan's
Everything But the House (based in Cincinnati)
Rago
Sotheby's
Thomaston
1st Dibs
Also, you can also buy contemporary Rookwood Pottery at the Rookwood website itself. Rookwood is still operating and continually producing new lines of work which can be bought at the Rookwood store.
Final Thoughts
So, how much is Rookwood Pottery worth? The price that you can expect to pay for a piece of Rookwood Pottery is on a scale. At the lower end of the spectrum, you can pick up pieces of production ware for a few hundred dollars. After that, there are middle-range pieces, which can be around $2,000 to $6,000. The higher-value pieces are sometimes around $20,000-$50,000. And at the very high end of the price scale, you can expect to pay hundreds of thousands for an exclusive piece that has some historical significance.