Affiliate Disclaimer
As an Amazon Associate I earn from qualifying purchases. It helps me keep the website going. Thank you for your support.
The Roseville Pottery Company was well known for consistently producing high-quality pottery with unique patterns and styles. The operations began in the 1890s, whereby it was small-scale, and the company gradually expanded its dealings to a widely recognizable level. But is Roseville pottery still made?
Unfortunately, Roseville pottery is no longer made. The company ceased production in 1954 after more than 60 years of being in the business. In this article, we will discuss why Roseville stopped making pottery and where you can find and purchase its antique pieces.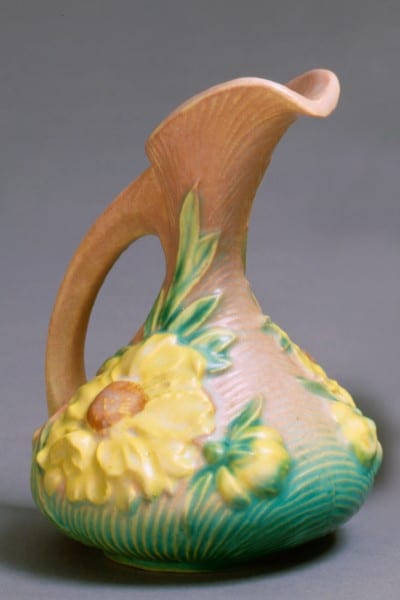 Reasons Why Roseville Pottery is No Longer Made
There are a couple of key factors that lead to the cessation of its production…
Cheaper Imports
One of the reasons the Roseville company ceased making pottery was the influx of cheaper pieces from Japan. People opted for the more affordable Japanese pottery, decreasing the sales of many American pottery companies.
Although Roseville produced high-quality pieces in unique designs, the imported pieces claimed a huge chunk of their customer base. As a result, the company struggled to stay afloat. This was the main reason for the closure of the company and the end of the production of Roseville pottery.
Following the continuous losses, the company's management decided to sell it in 1954. The sale package included all the designs and production plants. Unfortunately, the new owners interfered with the continuity and going concern of the company by ceasing production altogether.
Bankruptcy
The other major reason Roseville stopped making pottery is that the company went bankrupt. The incessant loss of customers meant that the company could not meet its debt requirements. Thus, it lacked the resources to carry out production and other operations. Thus, it started running at a loss.
The company declared bankruptcy in 1953 as it could not keep its head above water any longer than it could. While it was fueled by its dedication to producing high-quality pottery, the Roseville pottery company became unsustainable.
In 1954 the company was acquired by the New England Ceramics Company. As aforementioned in the article, the new company did not continue with the production of pottery, so the creation of Roseville pottery died out.
Thus, bankruptcy led to the closure of all production plants and, consequently, the termination of the making of Roseville pottery.
Why Roseville Pottery is Still Popular
The molds and patterns of Roseville pottery still attract collectors even to this day. These pieces are collected worldwide with their prices having undergone wild swings over the decades. Besides, they are becoming rarer by the day, and as with pottery, the rarer it is, the more it is sought after.
In addition to the unique designs, these pieces have a rich history which greatly adds to their legitimacy. As such, they are highly prized commodities. Therefore, pieces of Roseville pottery will continue to be valued and popular even though they are no longer produced.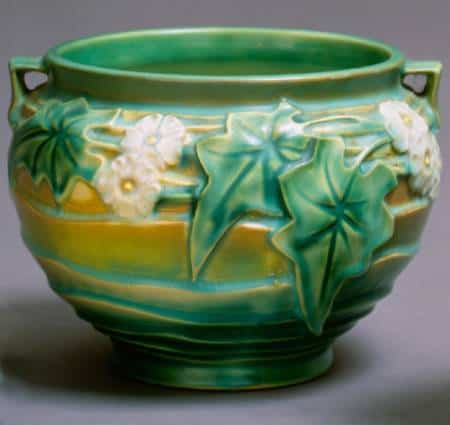 3 Places Where You Can Find Roseville Pottery Today
While Roseville pottery is quite rare, the pieces are still in circulation. Thus, if you intend to get a few pieces for yourself, there are select places where you can find them. They include the following:
Specialist Online Ceramic Stores
Just Art Pottery Auctions The Just Art Pottery store is an online site that provides both entry-level and expert collectors an opportunity to find the pieces they may be looking for. The site features a wide variety of pottery, including Roseville pottery pieces. Thus, it would be an ideal place to look.
This store features thousands of Roseville pieces, meaning that there is always something for everyone. If you are a beginner in the art of pottery collection, this would be the best place to start, as this site is quite easy to navigate.
Also, you will be sure to find authentic pieces that are sold either as single pieces or entire collections. The site is widely recognized by expert collectors, which boosts its credibility. So, you can rest easy knowing that you will not fall victim to a scam arrangement where you receive counterfeit pieces.
Etsy
This online marketplace provides an avenue for buyers and sellers to transact in antique pottery pieces. Thus, there are all types of pottery pieces, including Roseville pottery. As long as you find a willing seller, you can purchase pottery vessels to build on your collection.
In Etsy, the transaction occurs directly between a buyer and a seller. The website enables interested parties to find each other and conduct a smooth deal. Essentially, it is like the wall street of pottery.
Also, the platform ensures that all pieces transacted on the website are as authentic as they can be. Etsy ensures that all its sellers undergo a verification process for the sake of credibility.
Therefore, you will most probably find authentic pieces on this platform which saves you from worrying about buying fake pieces. Even so, it is advisable to double-check the pieces for authenticity before making a purchase.
Additionally, this platform deals in a wide range of products and not just pottery. Therefore, it may not be the best place for amateur collectors to get information about the pieces, unlike the Just Art Pottery site mentioned above, which exclusively deals with pottery.
eBay
eBay is an online platform that facilitates one-to-one sales of different items, including pottery. Just like Etsy, this platform is safe to buy from since there is third-party involvement, which is more foolproof than buying from an individual's personal website.
This involvement ensures that the seller is checked for authenticity, which also goes a long way in making sure that the piece they are selling is genuine.
eBay works as an auction avenue whereby a piece goes to the highest bidder. You can be sure to find a wide variety of Roseville pottery here, including antique pieces. So, it is one of the top choices if you are looking to collect some pieces.
Compared to the two other websites mentioned above, eBay mostly features simple pottery, which is cheaper than antiques. However, this does not make them any less authentic than the antiques.
Final Thoughts
Although Roseville Company continually and consistently produced popular pottery patterns and styles, they eventually went out of business in 1954. As such, Roseville pottery is no longer made.
The company went bankrupt owing to stiff competition from cheaper imports from Japan coupled with the prevailing economic conditions, which led to their bankruptcy.
Despite that, it is still in circulation. Pottery collectors are particularly interested in Roseville pottery for various reasons, such as its rarity, quality, and unique patterns.
You can find Roseville pottery in art exhibitions around the United States, and online stores like eBay, Etsy, and Just Art Pottery Auctions