Take it from someone who has been there: pottery can look intimidating from the outside. If you were considering how to become a potter, standing in awe of these magnificent ceramic creations could make you rethink your choices – and if you are cut out for this in the first place.
Becoming a potter is not as challenging as it looks. Most potters gain mastery of the trade-in some months to a few years. You can also take the academic approach and earn a qualification in pottery to boost your chances of landing better jobs and gigs.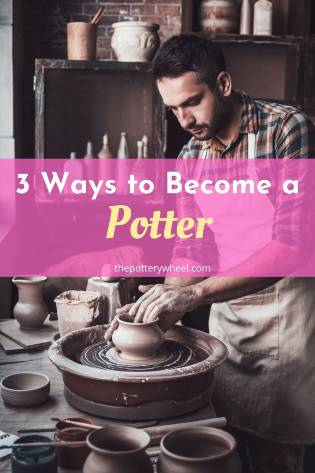 How to Become a Potter – Do You Need a Degree?
That depends on where you are learning from.
Most potters do not need to have had a degree before they enroll in classes. In fact, a distribution of all the currently registered potters in the US shows that a stunning 30.4% of them have less than a high school qualification (source). That accounts for over a third, and another third (31.6%) is taken by potters with only a high school degree to their name.
Thus, the remainder (less than a third) are the potters with a college, bachelors, masters, and doctorate degree.
Where Can You Learn How to Become a Potter?
There are a variety of training models to equip you with the skills needed to become a potter.
Of these, I would personally recommend the following:
An Apprenticeship
An apprenticeship introduces you to the on-the-job experience from the very first day in the pottery.
One thing I love the most about this model is how the theories are kept to a minimum and you do more of the practical thing. That way, you learn faster, execute even faster, and retain knowledge better.
Another big plus to an apprentice is getting access to years of expertise that your trainer has built up.
Most potters have developed unconventional methods of approaching their work. Such approaches make their product not only unique but also introduce better efficiency to their processes. Your trainer will give you all of that inside knowledge as part of your training.
Apprenticeships also stand out in how they could give you a tailored experience. Formal academic classes are structured according to the syllabus and that will be delivered to all students. A mentor will, instead, identify their student's strengths and weaknesses, adjusting their training approach to suit such a student better.
That said, though, there is a lesser chance of earning a qualification in pottery from an apprenticeship. That could be possible if your teacher were affiliated with some degree-awarding school, but even that is a far stretch.
If it's any consolation, though, remember that apprenticeship doesn't only deliver the skills and knowledge of how to become a potter to you. These programs are so fashioned that they also teach you the business side of things, give you a networking angle, and allow you real-time access to ongoing projects.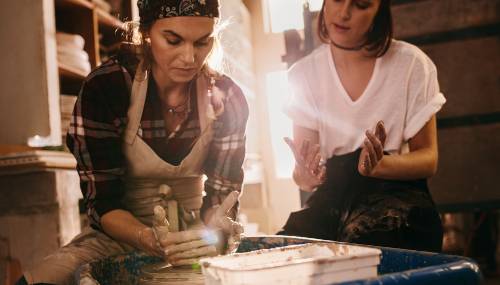 Informal Formal Training
That sounds weird, but that was the best way to put it.
Sometimes, your community college/ a school around you could host a workshop on pottery. It could be designed for all members of the public or just the students of the college alone.
No matter which it is, there is a chance of being awarded a degree of completion at the end of it all. Depending on how intensive the training is structured to be, this learning model can take anywhere from a few days (introductory sessions) to weeks/ months (in-depth teaching).
If you are just starting, it is advisable to attend such introductory sessions so that you are better aware of what you are getting into. If you want to make a career out of pottery, it makes sense to try it out as a hobby first. Here are some tips on starting a pottery hobby.
Formal Education
The formal education aspect is designed to cater to different categories of pottery enthusiasts.
Professionals can choose to establish their authority better in the niche by seeking a degree qualification with a 4-year bachelor's course. Beginners who are high school graduates can also apply to colleges to get a relevant degree.
When going the formal academic way, Fine Arts is the course of choice here with a specialization in ceramics. For a better understanding of the pottery space, some potters also go on to earn a materials engineering degree.
Many see the only advantage of the formal education aspect being the degree they earn and the recognition that brings them. I beg to differ.
I believe the formal model exposes potters to not only the trade and craft but what forms the basis of it. While there is a lesser chance that you learn about art history and foundations elsewhere, a formal education guarantees it.
Such knowledge comes in handy when presenting yourself as a thought leader, shapes your thought/ creative process, and gives you the tools to make truly timeless pieces, among other things.
Skills You Need When Learning How to Become a Potter
Your teacher will show you all the other skills you need to become a good potter. Before you step into the pottery, though, make sure to have these skills under your belt:
Perseverance – even the experts still spend long hours making some delicate designs, so don't expect to get it all in one day.


Self-assurance – pottery can be humbling. What you have in your head doesn't always come out, but you have to keep assuring yourself that you're going to make it work.


Realism – an idealist or perfectionist doesn't make the best potter. You won't always get the perfect curves or the straightest lines. With time and practice, though, you can make anything look great.


Playfulness – no jokes there. Pottery is meant to be fun, not an all-serious business. Get ready to have fun while doing what you love.
Can I Teach Myself Pottery?
Absolutely.
There are quite many pottery enthusiasts and hobbyists who learned pottery on their own.
Of these, there are the self-taught ones who didn't get any help from anyone whatsoever, and the self-directed potters who leveraged training materials to teach themselves.
Self-teaching/ direction is a great way to enter the world of pottery and see whether you'd like to pursue a bigger role in that world or not.
Final Thoughts
Only thinking about how to become a potter can be scary if you don't start anything. You now have all the options in front of you – from training yourself at home and attending locally organized pottery workshops to going all for a degree qualification.
If you have ever wondered what the best time for you to start was, that was yesterday. Fortunately, today is another good day.
What are you waiting for?